Car Showrooms, Crawley
Lexus. Hyundai. Peugeot.
Our team at CDA Ltd were involved in the design, build and construction for professional car showrooms in Crawley, London. We offer these services throughout the UK.
For this car dealership project, we worked on 3 separate units for market leading car manufacturers, Lexus, Peugeot, and Hyundai. We used Comar Architectural Aluminium Systems due to its robustness, reliability, and quality.
---
Car Showroom Constructions in Crawley
Upon visiting the site for the Crawley vehicle showroom, we assessed the structure and began planning our design and strategy. We knew that our client wanted to build the façade with the Comar EFT Curtain Wall system, as well as a large sliding entrance for vehicle access.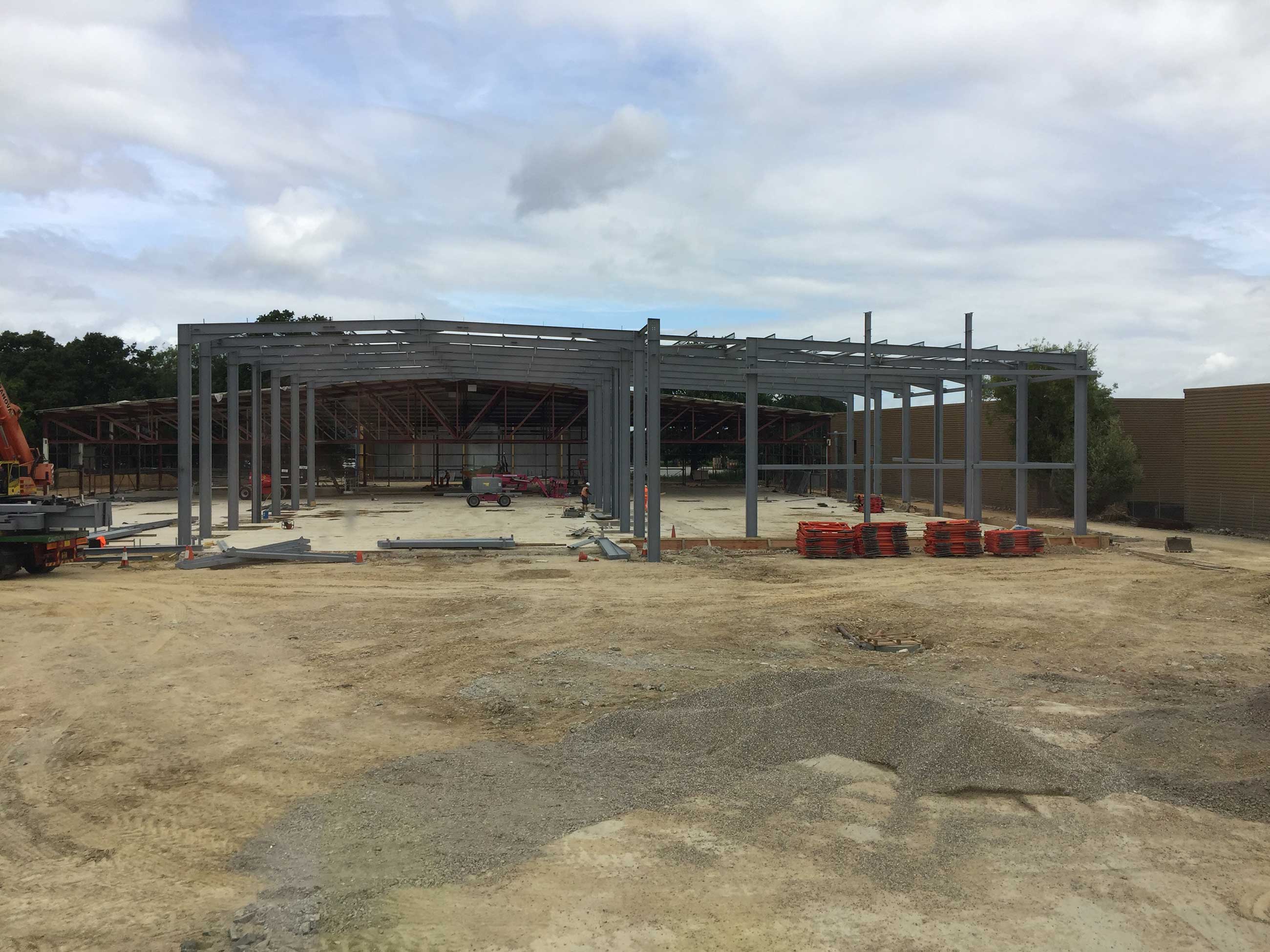 Car Showroom Curtain Walling, Crawley
Comar EFT Weather Specifications:
Air Permeability – 750 pascals
Water Tightness Static – 750 pascals
Water Tightness Dynamic – 600 pascals
Wind Resistance – 2400 pascals design
Safety – 3600 pascals
For this specific car showroom build in Crawley, we used a 125mm back set that was bolted back to the steel mid-level point at 3 metres. The curtain wall transoms used were 85mm mid levels with 125mm top and bottom.
The mullions were bolted through the base and head with an internal sleeve that holds the mullion in position. The transom and mullions combined improve the sound insulation performance of the glazed wall area.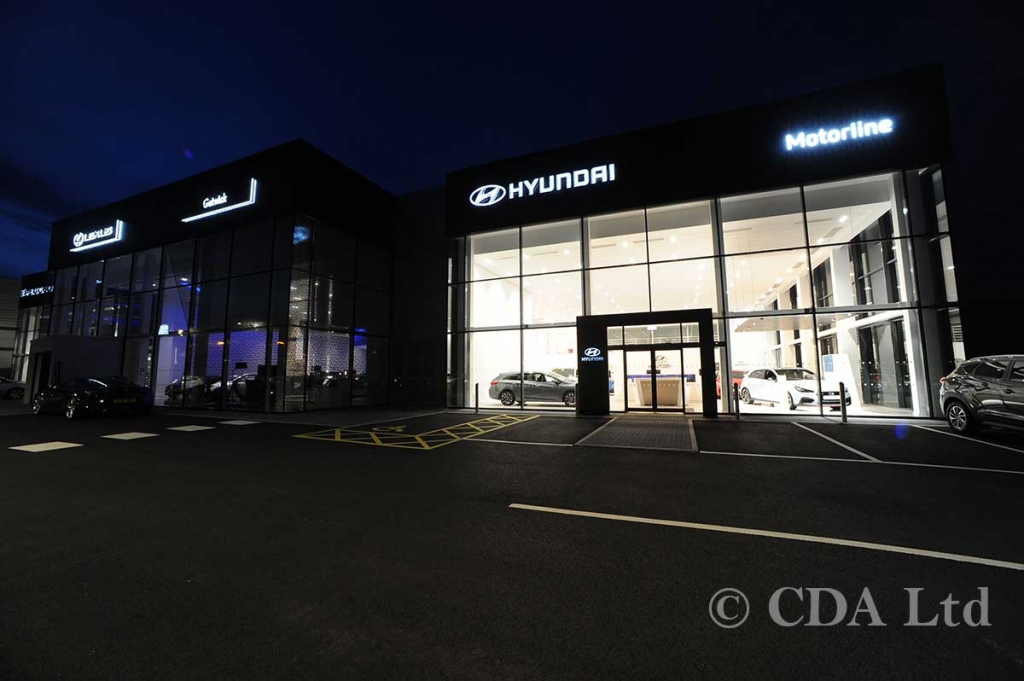 Car Showroom Glass Wall Panels
To construct the curtain wall units, we used energy efficient double glazing – an outer layer of 6mm toughened glass with 20mm warm edge spacer bars in black. These units were then combined with a 6mm toughened, soft-coat, inner pain.
Using this glass system will bring many benefits to the customers and employees at these car showrooms.
Security – Our toughened glass provides a hard, tough surface which improves the security of your building
Resistant to Thermal Breakage – As the majority of our car showrooms are made up of glazed curtain walls, it is important that the glass is resistant to thermal breakage to avoid the heat or cool air stressing and breaking the glass.
UV Resistant – The glass we use is highly energy efficient and prevents heat absorption.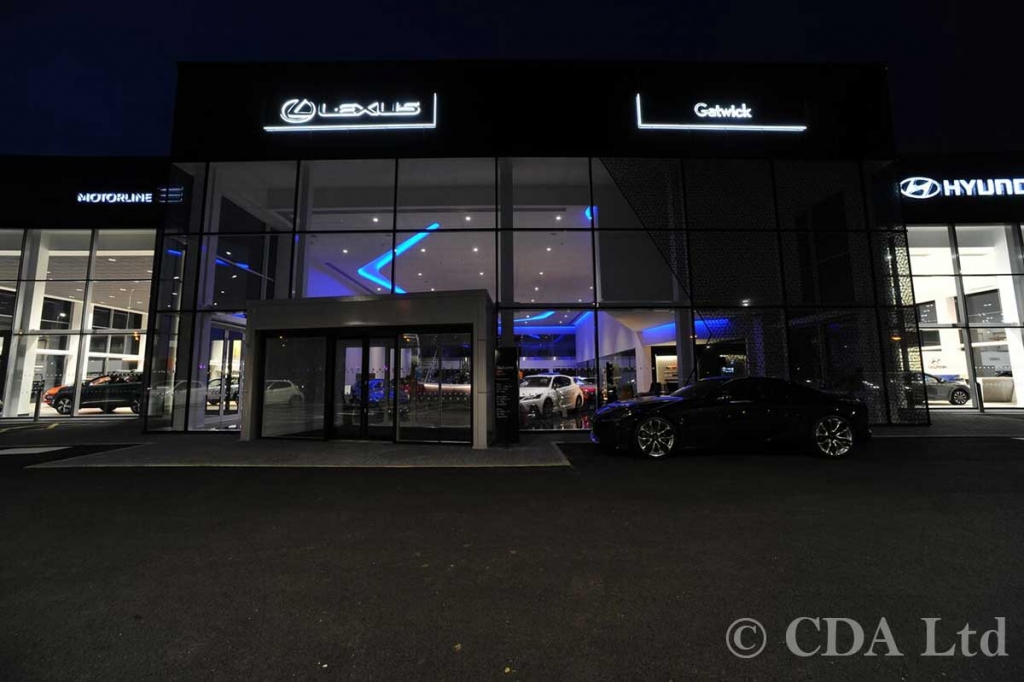 Creating the Wall of Glass
A successful car showroom relies on an influx of natural light so each vehicle can be showcased in its most natural form.
To achieve this look, we held the glass in position by screwing the pressure plates to the mullions and transoms through a screw port which securely and evenly fastens the glazed wall in place. The installation of curtain walling onto the Lexus, Peugeot, and Hyundai showrooms was finished by snapping on cover caps to conceal the screws.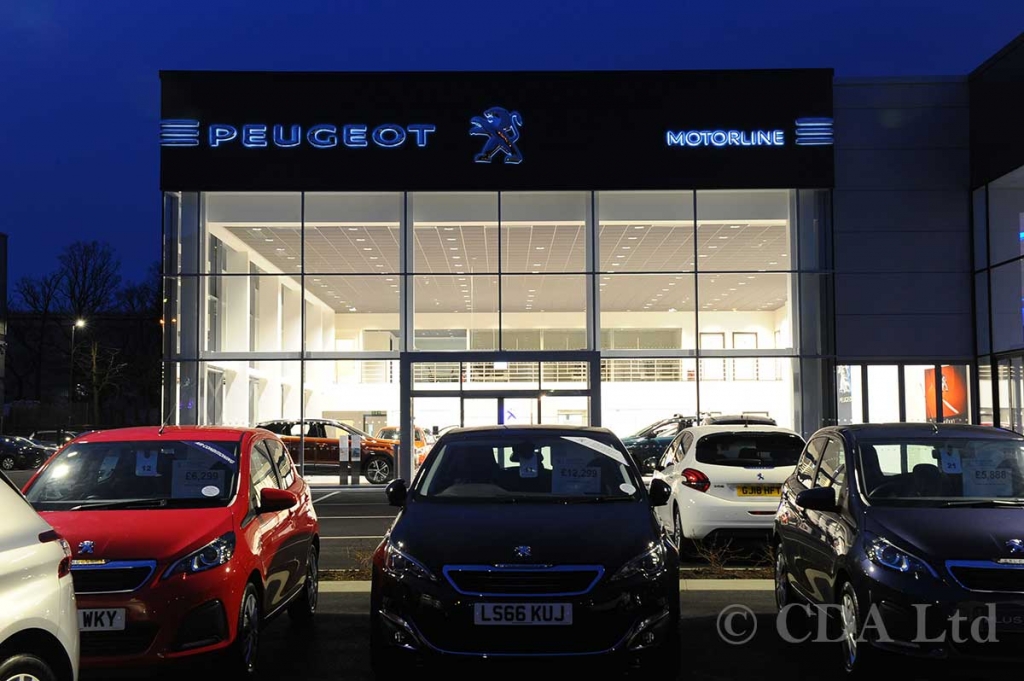 Car Showroom Automatic Doors, Crawley
The car showroom construction project in Crawley consisted of more than just the curtain walling.
On this contract, we also installed the automatic sliding entrance doors. These sliding doors were manufactured from Comar 7 commercial grade doors, with a Record automatic door kit for operation. For a property that will manage large footfalls on a daily basis, it was important that the automatic doors were the most comprehensive system on the market to manage the constant use.
A large vehicle access entrance was created in each showroom, of which we also installed Comar 7 commercial grade doors.
The Comar 7 aluminium commercial doors have been designed to meet the relevant industry standards: BS 7950 and PAS 24 (where applicable). These doors are suitable for car showrooms as they are available with a different level of threshold options and anti-finger traps to meet all customer and car showroom design requirements.
Choosing Aluminium For Your Car Showroom
Curtain walling and aluminium is a very popular choice for commercial construction projects, especially car showrooms. The lightweight frames and flexibility means that even some of the most demanding architectural commercial designs can be built with expertise.
Aluminium is a very durable material and is very low maintenance. Due to the strength, it is long-lasting and will survive through some of the most extreme weather conditions. It is an extremely smart investment as it does not age like most organic materials meaning your car showroom will retain its perfect structure for many years.
The aluminium that was used for these car dealership construction projects were powder coated in their individual RAL colours to keep them on-brand and unique from one another. By applying a powder coat to aluminium, the materials natural durability is enhanced.
Car Showroom Colours
Peugeot Car Showroom – A RAL 9006 powder coat was used to suit the branding of Peugeot.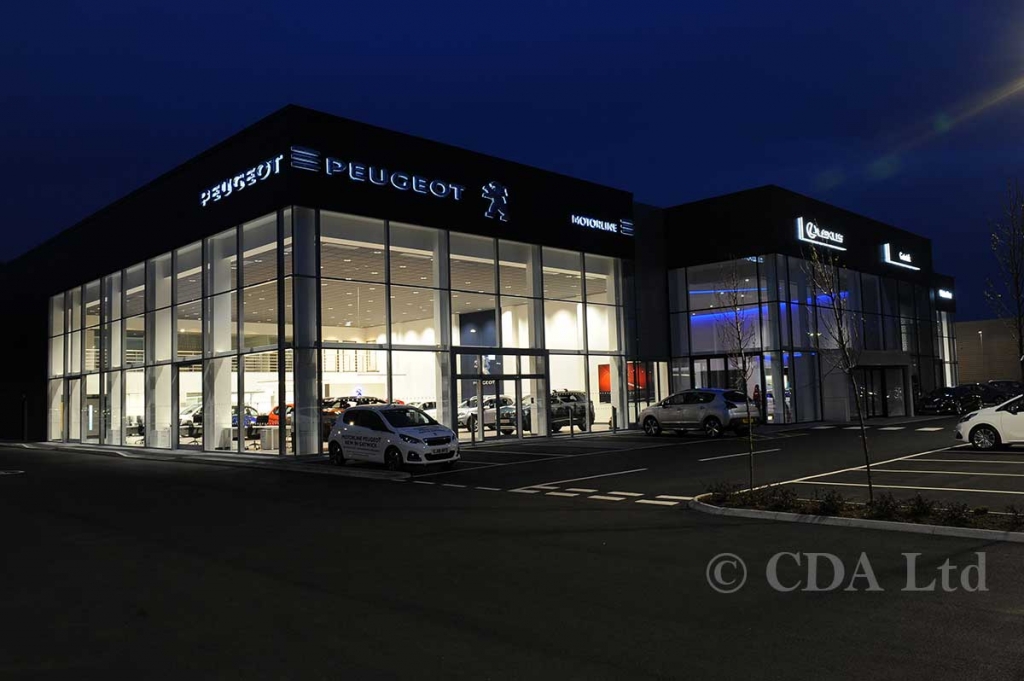 Hyundai Car Showroom – Both the Internal and external of the vehicle showroom were powder coating in RAL 7012.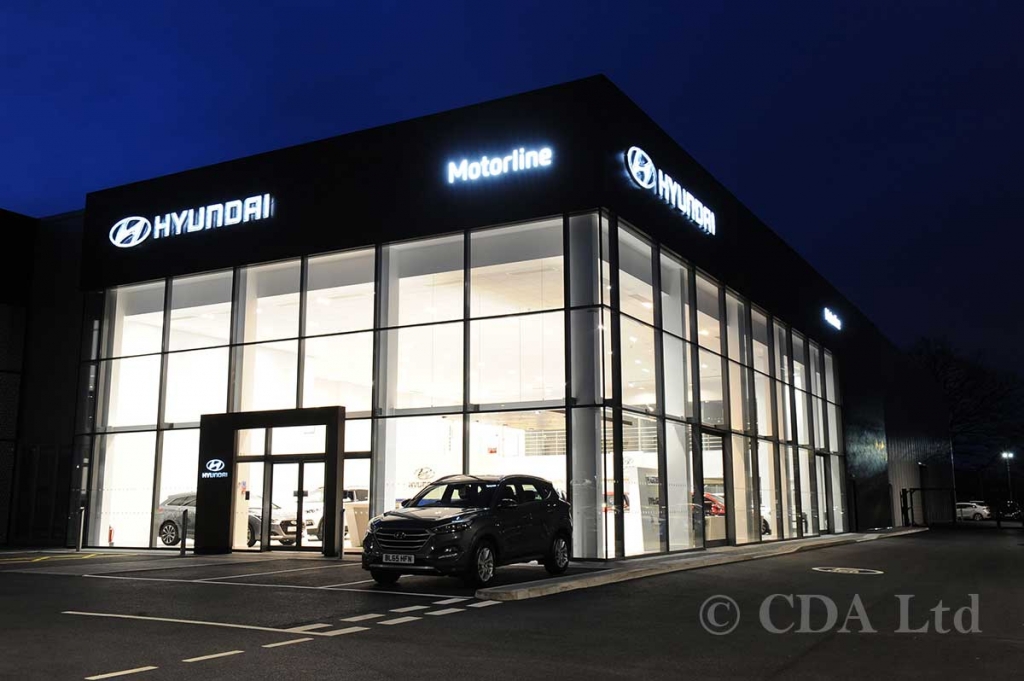 Lexus Car Showroom – The Lexus dealership in Crawley was internally coated with RAL 9010 white, and externally the aluminium was powder coated in RAL 9005.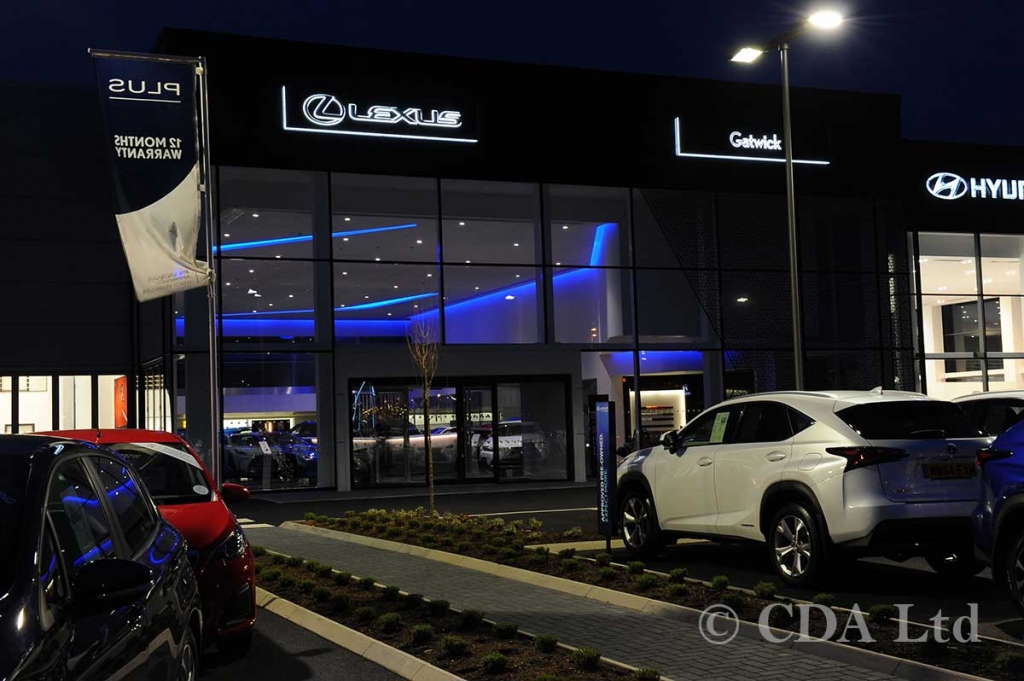 ---
Car Showroom Builders in Crawley
If you are looking for a reliable company in the aluminium construction industry to help you with your car showroom project, contact us today.
We can help you to create a beautiful and high quality glazed aluminium structure to show off your vehicles in Crawley, London, and throughout the UK.
You can contact us via our contact form, or by calling us on 02380 224 900.
---
View Our Colour Guide
---
Comar 6EFT Brochure
Comar 7 Commercial Doors Brochure