Automatic Sliding Doors Southampton
Commercial & Domestic Aluminium Ltd are offering you, and your commercial property, the very best aluminium automatic sliding doors that are available in Southampton, Ringwood, Romsey and the surrounding areas.
Our sliding doors are an excellent automatic door option for all types of commercial properties and public buildings in Southampton. From hospitals and schools to banks, retail outlets, and office buildings – CDA has the automatic sliding door for you.
If you're looking to change your existing entrance doors to automatic sliding doors, you will be met with many features and benefits.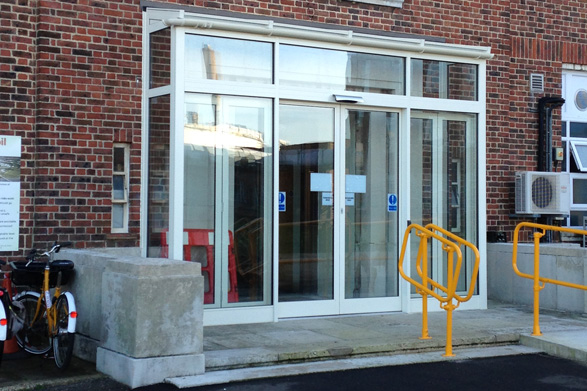 Durable Sliding Doors
Our automatic sliding doors are incredibly durable and hard wearing.
They are built using advanced levels of technology with reliable and robust mechanics and frames to offer an extensive lifespan.
The characteristics of aluminium will also protect your sliding doors against rust and rot, leaving your entrance looking pristine all year round.
Properties in and around Southampton with heavy traffic and a large footfall will benefit significantly from aluminium sliding doors.
Safety & Security Features
Aluminium is a particularly robust material. It can withstand more pressure than other materials, such as uPVC and timber, making it a market-leading option for commercial properties in and around Southampton.
Quality glass and quality frames go hand in hand when it comes to safety and security.
Depending on the customer requirements, we are able to offer different variations of glass – further enhancing your security.
All sliding door models can be equipped with escape route safety systems.
Quality Performance
Our sliding door systems are flat and open in a linear fashion to promote extra space and utilise areas which otherwise would need to be kept clear for a manual hinged door.
Fitted with obstacle detection systems our doors will carefully be able to monitor when a user is approaching.
The detection system will also be able to track a user or object that may be blocking the door, disabling the automatic closing system until the obstruction has moved away.
Convenience
Installing automatic sliding glass doors will benefit a lot of your customers while offering you the potential to increase your footfall.
This is due to the aesthetics and the operating system. Not only can automatic doors enhance the visual aspects of a property but they are also convenient for all.
The accessibility of a commercial property is important, and our automatic sliding doors enable a larger volume of people to pass through as well as creating ease of access for the user.
Installing these into your commercial property shows your commitment to customer service.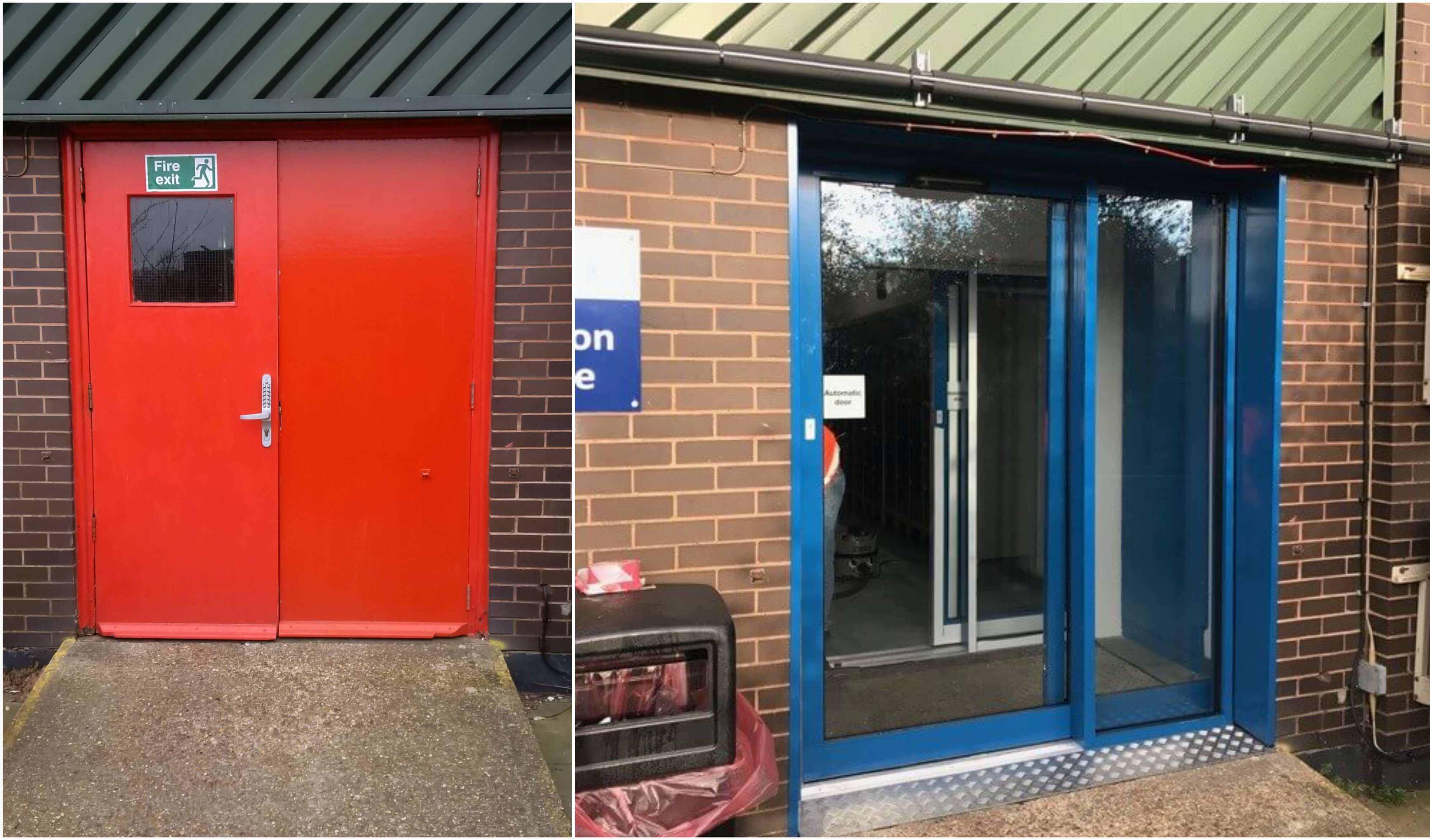 Smooth Operating Electric Doors
Advanced technology and precision engineering mean that our sliding doors are able to benefit from a smooth and exceptionally quiet automatic operating system. This will leave you with no unnecessary distractions throughout your day.
Adaptable Sliding Doors for Your Commercial Property
Doors are the first impression to any property and, in Southampton, we install automatic doors that are compatible with commercial our shop fronts, curtain walling and windows.
Our sliding doors can be adapted in a variety of ways. You can choose between single automatic sliding doors or double bi-parting automatic sliding doors. Single entrance doors are ideal for smaller properties and those with less traffic than larger commercial properties or buildings, which will benefit most from the double bi-parting sliding door.
We also offer options of placement for the drive unit, such as integration in the ceiling, to create a seamless and elegant entrance for all of your users to enjoy.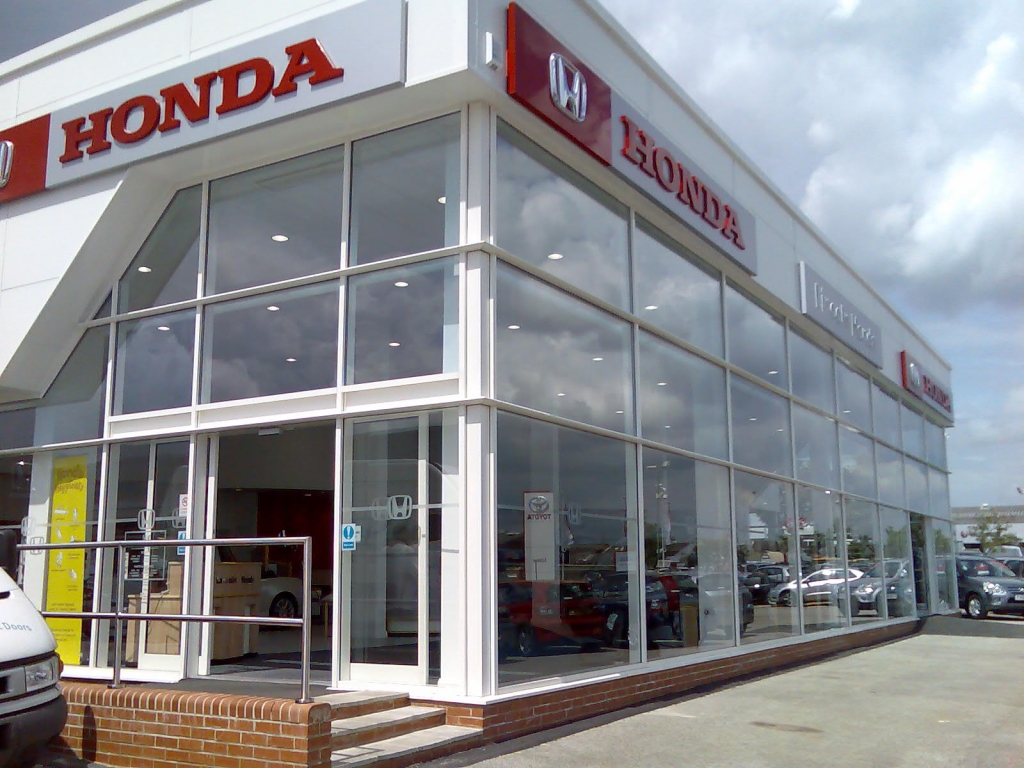 Colours & Finishes
Our commercial aluminium sliding doors are available in an extensive range of colours, including dual colour combinations. Our RAL colour chart offers you a variety of choices to complement the exterior, and interior, of your property.

Energy saving
Automated sliding doors do not use up as much electricity as you may suspect. In fact, they can save you money in the long term.
Automatic entrances are only open when in use and are tightly sealed when they are closed. This reduces the amount of energy needed to heat or cool a building. You can be reassured that your doors will never be left open by accident, resulting in a loss of heat or air conditioning.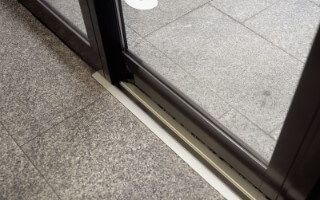 In addition to this, insulated frames and glass will further minimise the amount of energy used and protect your Southampton building from draughts, extreme temperatures, and rain.
For more information on our automatic sliding doors, please contact a member of our team where we will be more than happy to discuss your options further.