Aluminium French Doors Southampton
We manufacture, supply and install incredible aluminium French doors for homeowners and property developers in Southampton, Ringwood, Romsey, Winchester, Eastleigh, Hampshire and the surrounding areas.
Stylish, elegant and versatile, our aluminium French doors can be installed to provide a contemporary and modern feel. Our expertly designed aluminium door systems can be made to your precise requirements, combining the finest aspects of style and a high functioning system.
Our aluminium French doors in Southampton can be a practical and attractive addition to your home or conservatory.
Why Choose A CDA Aluminium French Door?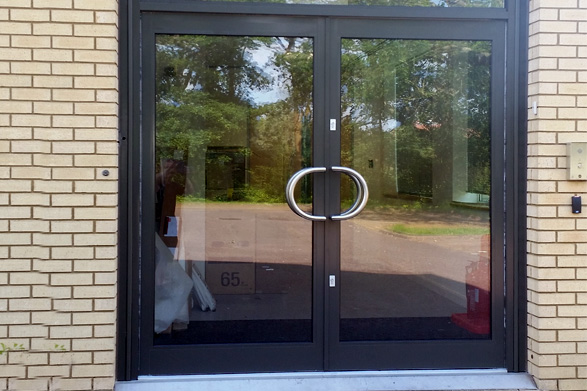 As experts in the Aluminium field, CDA are partnered with Comar Architectural Aluminium Systems and Smart Aluminium for advanced levels of technology and aluminium designs.
A wide variety of accessories and colour options are available so you can make your aluminium French doors your own. For a great way of adding space and light into your home choose aluminium French doors as they will last an exceeding long period of time.
Choose from our vast range of RAL colours – make a statement with loud vibrant shades or keep it subtle and understated – the choice is yours.
Accessibility isn't a problem either. If you require a low threshold for pushchair or wheelchair access this is easily doable with an aluminium French door from CDA. Far sturdier than timber or UPVC, an aluminium threshold is able to withstand more pressure and general wear and tear without showing flaws.
An aluminium French door is a great option if you decide to turn a ground floor window into a wide exterior opening. Increase your access options and also enjoy seamless living space between your garden and home in the summer months.
View Our Aluminium French Doors Brochure
Captivating Style
Known for their class and elegance, aluminium French doors offer light enhancing aesthetics and ultra slim sight-lines.
Our sleek and modern French doors are available in various style choices to suit your requirements. Choose from either full glass, decorative Georgian bars, square leaded and diamond leaded designs.
Aluminium French Doors Colours & Finishes
Designed to complement a wide range of homes, our profiles come in an exclusive range of colours and metallic finishes to ensure they meet your desired look.
Choose from our vast range of RAL colours, with dual colour options available as well as textured ranges. View our aluminium colour guide and start planning your aluminium French door installation today.
Versatile Aluminium French Doors Southampton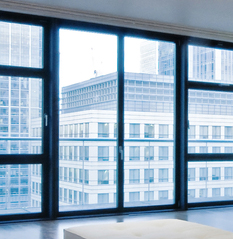 These doors allow unrestricted access to your home and provide maximum ventilation. Their slim sight-lines mean they blend in seamlessly with your existing property.
Our aluminium French doors can be specified to either open simultaneously or open outwards or inwards. Handles can be fitted on both doors in a choice of colours and finishes.
Whether you want your French doors to offer easy access to your garden or as a divider between rooms such as a conservatory, we can accommodate. Choose our aluminium French doors and benefit from modern durability, style and security.
Low Maintenance
Requiring minimal upkeep, aluminium French doors are manufactured with thermally broken frames and are finished in powder coated colours which can last for a lifetime.
An occasional wipe clean is all that is needed to keep these doors in perfect condition.
These doors are much sought after due to their low maintenance qualities.
High Security
Your safety and security comes first. Our Aluminium French doors meet all current Building Regulations and British security standards. We offer high security locks and additional security upgrades for those wanting maximum protection.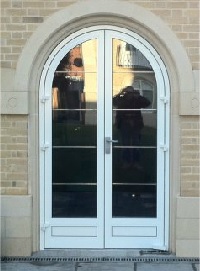 Energy Efficient
Aluminium French doors are not only highly secure but also energy efficient. With the greatest WER ratings you can achieve ultimate thermal efficiency for your home. A set of aluminium French doors will keep your home warmer throughout the year as the 'A' rated energy efficient glass keeps heat inside rather than letting it escape. Even the worst of the British weather will be kept outside.
Strong & Durable
Extremely robust and tough, aluminium French doors are one of the best ways to secure your home. Despite being surprisingly light and manoeuvrable, aluminium always remains incredibly strong.
French Door Prices – Contact Us
If you are considering replacing your old French doors or looking to expand an existing property then our Aluminium French doors will be a perfect choice.
As a leading aluminium supplier and installer in Southampton, we have many years of experience helping individual homeowners and developers throughout Hampshire.
Contact us today on: 02380 224900. A member of our team will be happy to assist you with any queries on your next home improvement project.