Roof Lanterns
At Commercial and Domestic Aluminium, we provide and install high-quality roof lanterns to homeowners, businesses, and commercial properties in Southampton, Fareham, Totton, Eastleigh, Ringwood, Romsey, Winchester, and throughout Hampshire.
Contact us to learn more about how we can help provide you with superb roof lanterns that will give you fabulous performance.
---
---
Roof Lanterns in Southampton from CDA Ltd
Our spectacular selection of Skypod roof lanterns means that you can get a roof window for any property, no matter its style or use. We give you flat roof lanterns, pitched skylights, and much more.
All of these can be tailored to fit the size, shape, and design of your roof, giving you skylights that are a seamless fit for your property.
These uPVC roof lanterns give you great features as well as sleek style. What's more, they are highly strong and secure. Plus, they give you great heat performance as well, keeping your room warm.
The best part is, they are so resilient that caring for them is almost zero effort.
In fact, with our Skypod roof lanterns, you get a sustainable option, where both the glazing as well as the lantern roof frames can be recycled. Combined with the fact that you will save money in heating bills with their heat efficiency, you get an ecologically-responsible product for your property.
Whether you want them for a school, car showroom, office, or even your own home, we will give you a desirable product that will last you years.
Attractive Skypod Roof Lantern Designs
Our Skypod roof lanterns are designed to give you exceptional style. These skylights offer slim and sleek frames that discreetly showcase the glazing. As a result, you can transform a dull and dark room into one that is brightly lit and looks bright and welcoming.
Additionally, you can tailor your roof windows to look the way you want them to. We give you a choice of colours in frames as well as glass designs and finishes.
However, we also give you a glorious selection of shapes and designs of the roof lantern itself. You can choose a 20° or a 35° fixed pitch giving you a roof window that is as shallow or elevated as you want.
While the pitch of the roof lantern helps you control the height of your room, we also offer stylistic options. Choose from a two-bar or three-bar pitched Gable design.
Our modern roof lantern designs mean you can get a minimalistic and modern fitting for your property. What's more, without the crestings or finials and a discreet finishing, your roof lantern will always look smooth and stylish.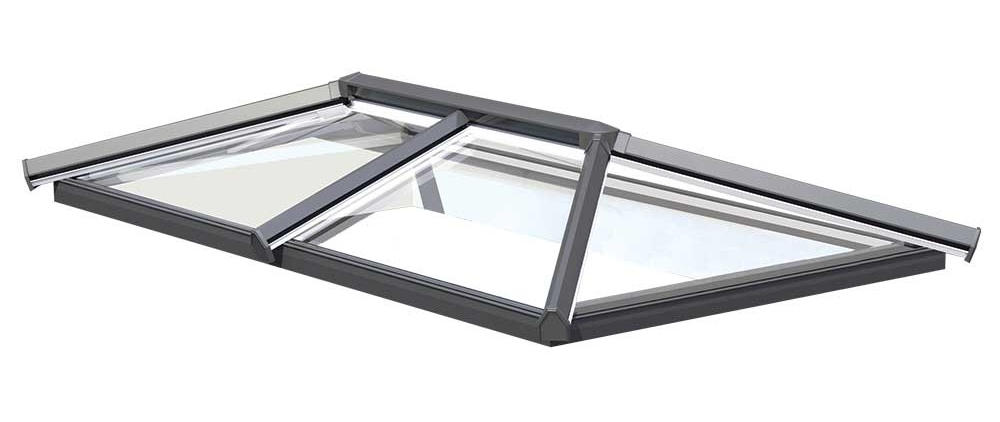 Thermally Secure Roof Lanterns
As we all know, heat tends to rise, making the roof and windows on the roof a point from where the warmth from your room can escape.
With our heat efficient Skypod roof lanterns, however, you don't have to worry about cold rooms. We give you double glazed roof windows that also have insulated frames.
The profiles of our skylights are designed to retain heat better.
As a result, these double glazed roof lanterns create an effective barrier that does not let the heat escape. The result is a warmer room that does not require as much heating to heat up or stay cosy. What's more, since you are no longer using as much energy in heating your room, you make savings in your heating bills.
Roof Lanterns with a Quick Delivery
Whether you want our Skypod roof lanterns for your own home, a commercial property, or for your clients, we ensure quick delivery.
As a result, your lantern roof is delivered and installed with only a short wait after you order. This way, you get what you want and with the least amount of disruption to your, or your client's, life.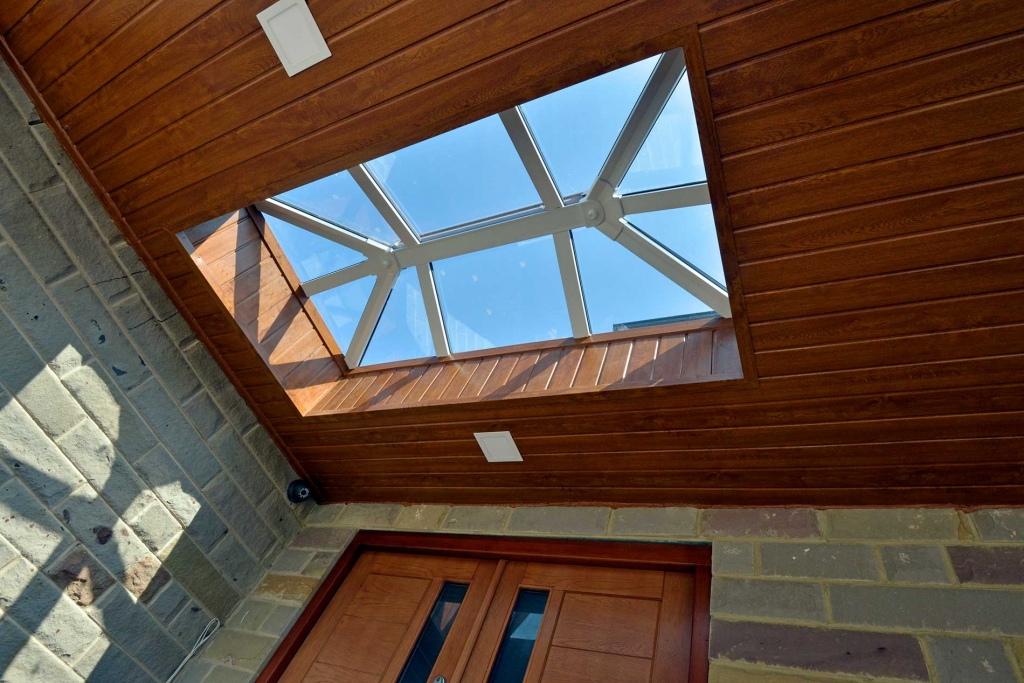 Highly Secure Skypod Roof Lanterns
Our lantern roofs are stringently tested for strength and resilience. As a result, they give you protection from adverse weather conditions, including heavy snow and strong winds. However, their strength also means that you don't have to worry about intruders breaking in from the roof.
What's more, our roof lanterns are designed to be weather-proof. These windows come with airtight seals all around the glass panes. This gives you a room that is warm and dry even in the most adverse British weather.
Easy to Maintain
With our roof lanterns, you don't have to worry about extended care routines. These uPVC roof lantern profiles are amazingly damage-resistant. What's more, with our self-cleaning glass, you don't have to worry about dirt marks or stains on your windows either.
Whether you want to use these windows in your showroom, office, or retail outlet, or in your home, these roof lanterns will brighten your space and make your rooms look attractive and welcoming.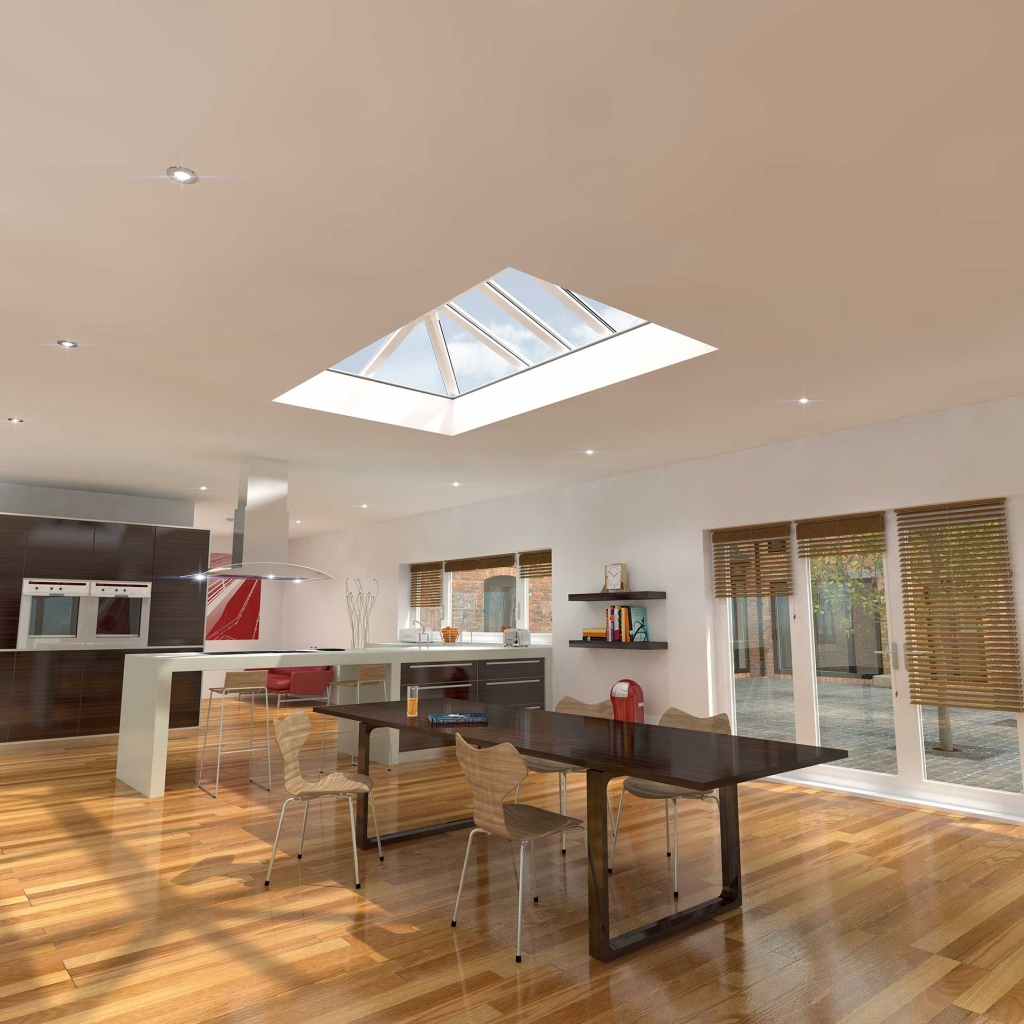 Roof Lantern Prices
Our competitive roof lantern prices in Southampton and throughout Hampshire give you the same sleek design of aluminium roof windows but at a fraction of the cost.
If you want a roof lantern quote for your home or commercial property, try out our online quoting engine. All you have to do is enter your requirements and it will calculate your bespoke roof lantern price for you.
Alternatively, you can contact us online to get your roof lantern cost estimates as well as any additional information you may need. Fill out our contact form and we will get in touch with you. Alternatively, you can email us at sales@cdaluminium.co.uk and let us know your questions.
We are also available on the phone, so give us a call on 02380 224900 and speak to someone from our team. We will be happy to help you with your flat roof lantern installations and questions.
---
Roof Lantern Designs
Skypod Roof Lantern Brochure