Commercial Doors Hampshire
We provide and install high quality, high performance commercial doors for businesses throughout Hampshire. We'll have a commercial door to fit your Hampshire company's demands, no matter what the style requirements of your commercial property are. There is a style for every business, including sliding commercial doors, bifold commercial doors, and commercial front doors.
Additionally, you may completely customise the design to suit your brand and property once you've selected a style that complements your storefront. We'll work with you to understand your design requirements and deliver a totally bespoke solution for your new commercial doors, from the colour and finish to the double glazing style.
At CDA, we don't just concentrate on aesthetics, even if they are crucial. Additionally, we guarantee that every commercial door we install will provide outstanding performance for our Hampshire clients. Commercial doors have different requirements than domestic doors since they have significantly more traffic and must be able to withstand a greater workload while providing greater security. Since we are aware that you need and deserve both aesthetic and functionality from your installations in Hampshire, we go above and beyond to deliver these to you in plenty.
Contact our helpful, expert team today to learn more about our selection of high-performance commercial aluminium doors.

Eco Friendly Solutions
Almost every industry is currently concerned with environmental effects, and it's easy to understand why. Since our selection of commercial aluminium doors is as environmentally friendly as doors come, choosing CDA for your new commercial doors can help the environment.
When it comes to environmentally sustainable building materials for commercial doors, aluminium is the benchmark. It is extremely abundant, extremely light weight, and infinitely recyclable. Additionally, it has a remarkable lifespan; in fact, more than 75% of the aluminium produced in the past 100 years is still in use today. How about that for toughness?
Even better, of course, is that our double glazing increases any building's thermal efficiency, giving you two times the eco-friendly points!
Double glazing provides poor heat transmission due to the inert argon layer sandwiched between the two panes of glass, making it difficult for heat to escape or cold to enter. As a result, your property will be better equipped to maintain a comfortable and even temperature. When your commercial doors are continuously being opened by clients, that is an important necessity!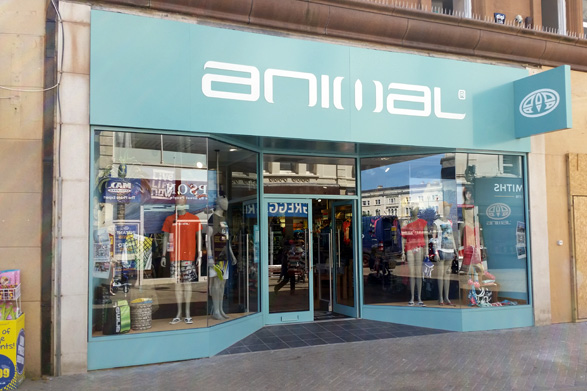 Aluminium Commercial Doors in Hampshire
Precision crafted aluminium is used in the creation of our selection of commercial doors because it is one of the most adaptable and high-performing building materials available right now, and our Hampshire customers deserve nothing less.
Although aluminium is much lighter and more flexible than steel, it is just as strong as steel, making it an incredibly versatile material for all types of doors while still providing any structure with excellent strength.
We also employ thick double glazing, which is well recognised for its robustness and security, on top of the extremely sturdy aluminium frames. Aluminium frames enable extremely thin sightlines for maximum glazing area, allowing you to make the most of all the glazing you can obtain.
We can design the ideal solution from quality materials to ensure your new commercial doors can withstand the demands of your business, whether your Hampshire property would benefit from automatic doors, manual doors, or even hinged commercial doors.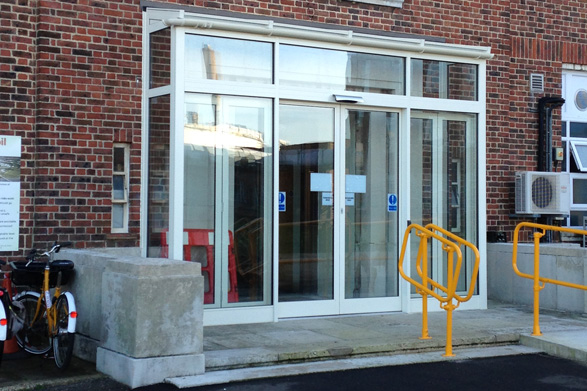 Industry Leading Commercial Doors in Hampshire
We collaborate with top commercial door manufacturers SMART and Comar to offer our Hampshire customers their amazing commercial door designs. We will always work to give you the finest for your commercial property since you deserve nothing less.
You can rest easy knowing that we'll put you and your needs first at every turn since we're dedicated to making sure that our Hampshire clients are at the centre of all we do. If you have any questions at any time during the installation process, whether you are receiving your initial quote or your installation has been finished, our knowledgeable and pleasant crew is always here to help. We will do all in our power to ensure that you have all the information you need.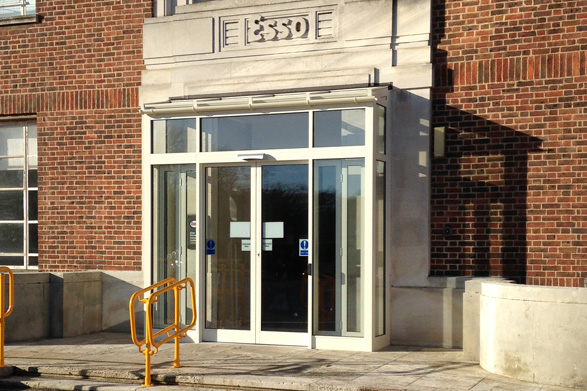 Commercial Doors Prices Hampshire
Get a free, customised estimate right away by visiting our online quoting engine if you're ready to improve the appearance and performance of your property with our commercial doors.
Alternatively, you can contact our helpful staff to learn more about our offerings and what we can do for your Hampshire property.
---
Commercial Doors Brochure
---
Start Your Quote