Supply Chain Partners
We are proud to partner with Comar Architectural Aluminium Systems & Smart Architectural Aluminium. Our supply chain partners are fundamental in us meeting the needs and requirements of our clients.
We have carefully selected our aluminium chain partners so that our customers receive high quality aluminium products.
Comar Architectural Aluminium Systems
Comar Architectural Aluminium Systems is the biggest British & privately owned aluminium systems company in Europe.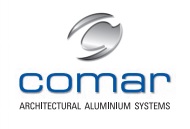 They design, extrude and distribute over 700 integrated profiles nationwide for use in aluminium ground floor treatment, window, door and curtain walling applications.
Their in house team of specification consultants provide project-by project design and calculations, as well as NBS specification advice to architects.
From industrial units to retail and corporate, Comar aluminium systems can be integrated with a wide range of panel systems.
The flexibility of their products means our company can supply windows, doors and curtain walling in a variety of configurations.
Smart Architectural Aluminium
Smart Architectural Aluminium is one of the UK's leading suppliers of aluminium glazing systems and bespoke aluminium extrusions.

Known for their product innovation, expert design and high technology, their company has built an outstanding reputation over the past 40 years.
Smart Systems are committed to high standards of craftsmanship. Known for their consistency, reliability and durability, their products meet the highest of specifications.
BSI Kitemark accredited, all their products have gained the following certifications:
ISO 9001:2008 Quality Management Systems
ISO 14001:2009 Environmental Management Systems
ISO 18001:2007 Occupational Health and Safety Management Systems
Smart provides design solutions for projects in the architectural, commercial, public and retail markets. As one of their reputable suppliers, we provide a versatile product range for our customers.

Reynaers have a wide range of aluminium products which include window and door systems such as:
Sliding and swing-entrance doors, curtain walling, brise soleil, conservatories, sliding folding doors, facade systems, skylights, and systems for blinds and ventilation. This is suitable for, residenitial, commercial, leisure and healthcare.