Aluminium Bi-Folding Doors, Winchester
At Commercial and Domestic Aluminium, we provide slimline aluminium bi-fold doors for your Winchester property. Our bi-fold doors succeed in gifting your home with greater energy efficiency and security. In a nutshell, aluminium bi-fold doors are one of the most attractive and luxurious door design in the current market.
The aluminium used in creating your doors has been produced by two of the largest fabricators in the industry, SMART & Comar. They offer resilient and durable aluminium profiles that give you many years of guaranteed service. This is then manufactured at our factory, so you can receive supply only and bi-fold door installations that are tailored perfectly to you.
Get in touch with us and learn how you can get these stunning folding doors for your Winchester property.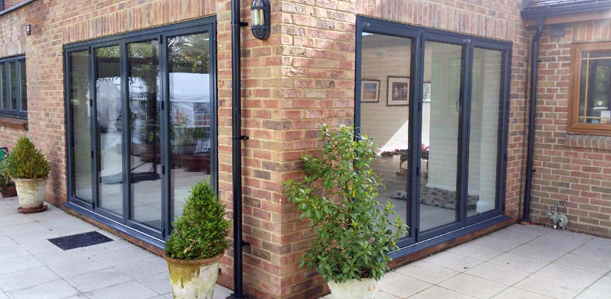 Slimline Bi-Folding Doors in Winchester
Aluminium Bi-Fold doors have become one of the most sought-after door design. This is because they seamlessly integrate the indoors with the outdoors and offer beautiful panoramic views of the outside world. Since aluminium is such a strong material, these folding doors can offer you slimmer frames with a larger area of glass. This also helps give you more natural light.
With their sleek aesthetics, our slimline bi-fold doors fit right in, whether it is in a living room, school, car showroom, or conservatory. Their slim sightlines help add a cleaner and a minimalist air to any property.
Attractive Aluminium Bi-Fold Doors
Our ultra-modern aluminium bi-fold doors are designed to create a contemporary and minimalist entrance. With the stylish flair they offer, they can transform your space instantly. These doors are incredibly versatile, both in operation and appearance.
We offer you the option of choosing your desired size and configuration. This way, you can ensure that your door fits your requirements perfectly. We also help you match your bi-folding door to your needs. Available in a huge range of RAL colours, ensuring we can match the natural characteristics of your property, whether commercial or residential.
Aluminium Bi-Fold Door Colour Guide
Durable and Secure Bi-Fold Doors
Here at Commercial and Domestic Aluminium Ltd, we recognise our duty in providing your property with security-conscious doors. We ensure that your aluminium bi-fold doors keep your property, possessions, and family safe and sound.
Firstly, aluminium itself is an extremely robust material, lightweight yet extremely strong. Additionally, we carefully make all of our bi-fold doors to order, ensuring they fit perfectly into your Winchester property.
We offer some of the most robust and compact locks on the current market for our bi-fold doors. Both our bi-folding doors and the locks we fit on them are manufactured to offer maximum security.
We are proud of our close business relationship with one of the most respected names in the security industry. The locks used on your aluminium bi-fold have been tested to breaking point and beyond, in an attempt to maximise the strength and reliability of the locks.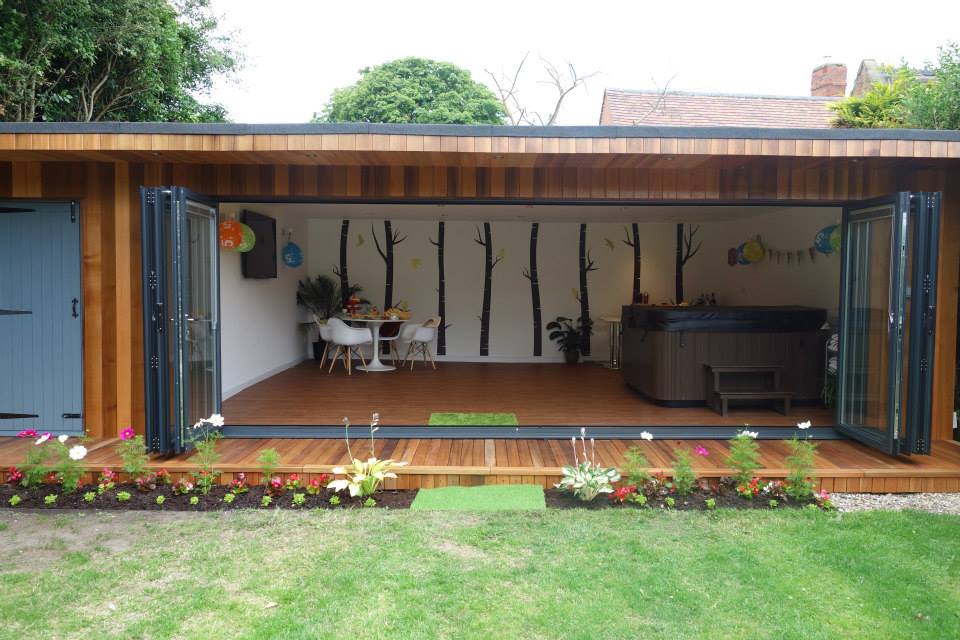 Why aluminium?
While bi-fold doors are available in a range of materials, the natural rigidity of aluminium ensures that they maintain their smooth operation throughout their long lifespan with minimal maintenance needed.
In fact, once installed your aluminium bi-fold doors will need almost no maintenance at all. At the most, you may need to clean the inevitable dirt build up from time to time. All materials used are treated to protect them against corrosive and damaging weather conditions.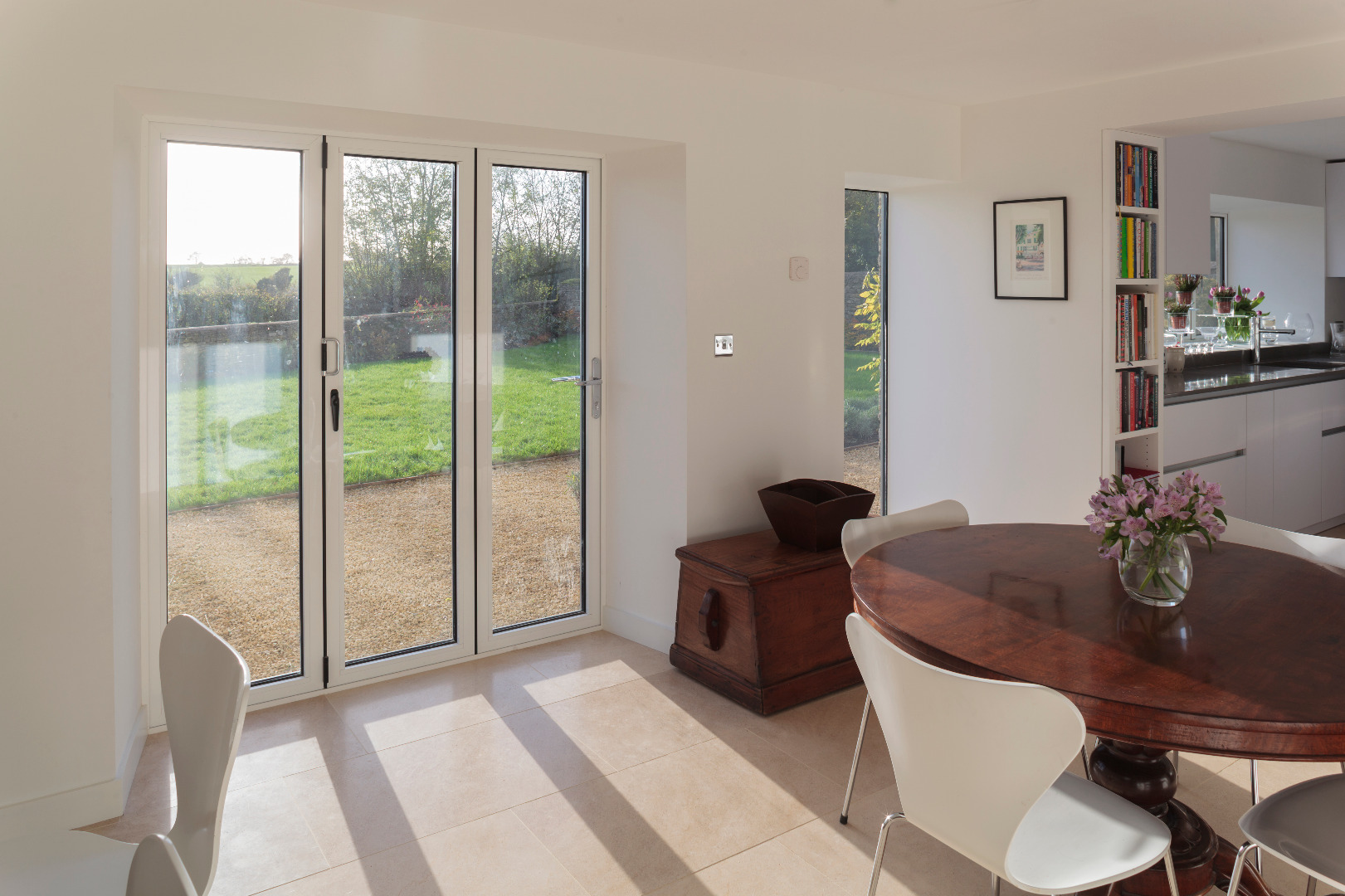 Configure Your Bi-Fold Doors
At Commercial and Domestic Aluminium Ltd, we specialise in supplying and fitting bespoke aluminium bi-fold doors throughout Winchester and the surrounding Hampshire areas.
All in all, our aluminium bi-fold doors are multi-functional and highly attractive. They are well known for their strength, reliability and energy saving values. Boasting effortless functionality, available in a vast range of beautiful pure RAL colours.
With the durability and convenience they offer, these doors are endlessly versatile.
You can also choose the width of your doors and the number of panels you want. We can offer concertina doors ranging from 2 panels to 7 panels. Again, you determine every aspect of their configuration, including the direction in which they open, static and movable panels, and leaf configuration.
No matter which leaf configuration you choose, all of our aluminium bi-fold doors run on a specifically made aluminium stainless steel tracks.
You can choose to have extremely low thresholds for easy accessibility. The tracks are durable enough to withstand years of traffic without losing structural integrity. As a result, you will get smooth operations throughout.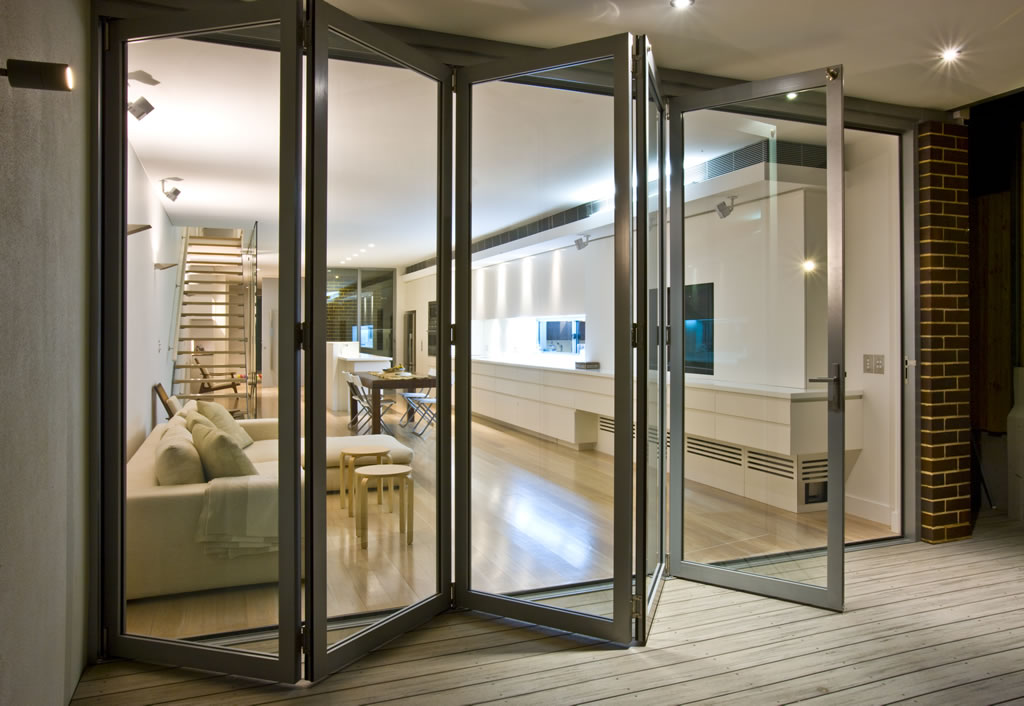 Heat-Efficient Bi-Folding Doors
Aluminium Bi-Folding doors offer phenomenal energy saving and security elements, far greater than any plastic competitors. These doors provide an effective barrier against the cold as well as draughts and damp. As a result, your property does not need as much heating to stay warm and dry.
This, in turn, saves you money on your expensive energy bills of your Winchester home. In fact, with your reduced heating needs, you also lower your carbon footprint.
Great Service Provided with Our Folding Doors in Winchester
We pride ourselves of being one of Hampshire's leading suppliers of aluminium bi-fold doors, supplying to both individual home owners and businesses alike. With over twenty-five years' experience in the supplying and fitting made to measure bi-fold doors throughout Winchester.
We are 100% committed to customer and product satisfaction. As a full service home improvements supplier, we can provide a full site inspection before any work is carried out.
CDA is known as one of the best suppliers and fitters of aluminium bi-folding doors in Winchester and the surrounding Hampshire areas. We've earned this title by creating bespoke aluminium home improvement products throughout Winchester for the past twenty-five years.
We strive to provide superior customer service. When working on your property, we do so by your watch.
We only work at a time which best suits you, aiming to cause minimal home intrusion throughout the installation. After we've finished the work, we'll make sure we leave your home exactly the way we found it, leaving no mess at all.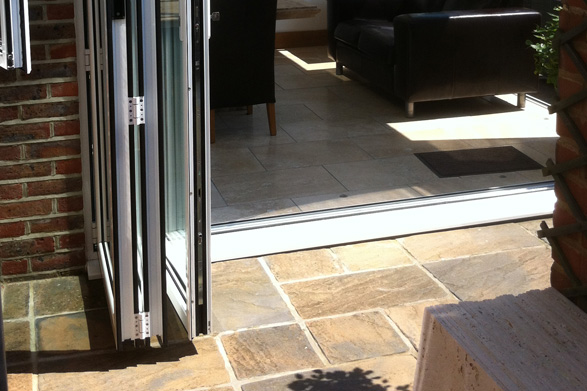 Aluminium Bi-Fold Door Prices
We offer instant and no-obligation aluminium bi-fold door quotes in Winchester and Hampshire. Simply visit our quote engine for your prices! You can also contact us via our contact form and one of our members of staff will get back to you.
We'll be able to answer any questions you may have, take you through the installation process, and provide you with a non-obligation quote over the phone as well. Just call us on 02380 224900 and speak to us.
Choose Commercial and Domestic Aluminium Ltd for bespoke aluminium bi-fold doors in Winchester. We recommend our roof lanterns with your new doors to truly create a space that offers natural light, but maintains privacy.