Aluminium Bi-Folding Doors, Eastleigh
At Commercial and Domestic Aluminium, you can get sleek aluminium bi-fold doors in Eastleigh for your property. These slimline bi-fold doors help in improving the thermal efficiency of your home as well as its security. These double glazed doors also provide a beautiful design feature that helps you manage and integrate your space better.
Our slimline bi-fold doors are manufactured by market-leading names, SMART & Comar. With these names, you can expect durable doors that are guaranteed to last you several years. We also give you customised bi-fold door designs that are crafted according to your specifications.
To learn more about our double glazed bi-folding doors in Eastleigh, get in touch with us.
We can also offer Eastleigh homeowners looking to transform their property a full range of aluminium windows that will seamlessly complement their new aluminium bi-folding doors.
---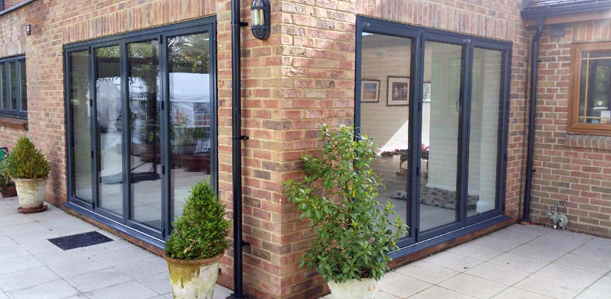 Attractive Bi-Fold Doors in Eastleigh from CDA Ltd
With aluminium bi-fold doors, you can seamlessly integrate your interior and exterior spaces. They also help you divide up larger rooms efficiently. These doors open up by folding into compact panels which gives you the use of the full aperture without needing a wide swing arc. This makes them ideal for larger openings, as they can be used to replace entire walls.
They offer a slim aluminium profile so you get bi-folding doors that are more glass than frames. This results in more natural light and better views. Whether you fit them in a living room, conservatory, car showroom, or school, these doors will give you a stunningly sophisticated look.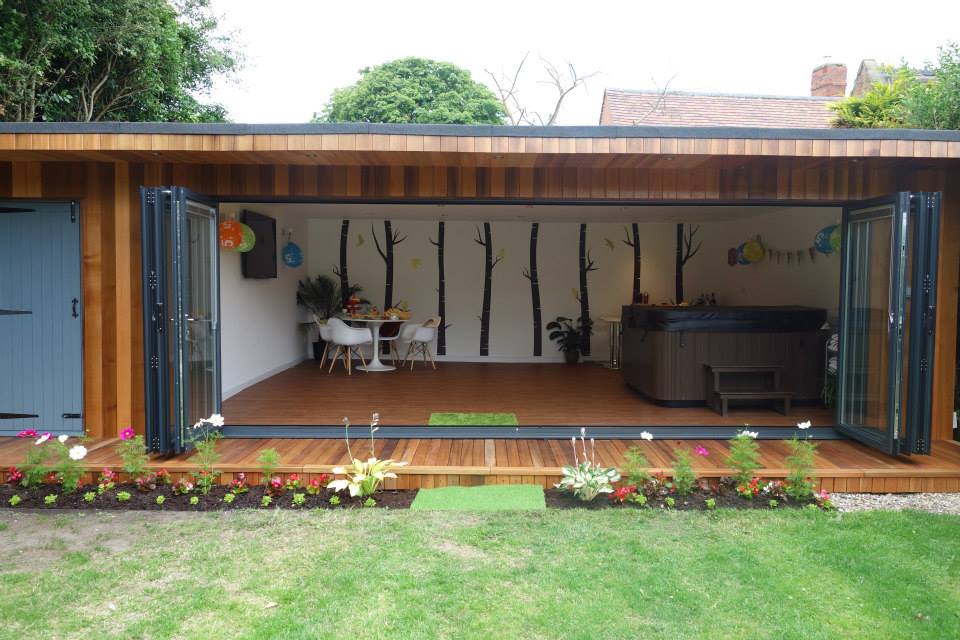 Aluminium Bi-Fold Doors
Our ultra-slim bi-fold doors help give your property a modern and clean look. These doors can instantly transform a space into a stylish and bright one. With the level of customisation, we offer, you can also tailor them to suit your needs perfectly.
In addition to the size, configuration, and the number of panels, you can also choose from a wide spectrum of RAL colours. Our colours and finishes are designed to ensure that no matter what your property looks like, our slim-line aluminium bi-fold doors will match it.
Aluminium Bi-Fold Door Colour Guide
Sturdy Aluminium Bi-Fold Doors
Security is one of the main concerns of any property owner, be it commercial or residential. This is why we give you sturdy and secure bi-folding doors. These doors will always protect your property and possessions with their rigid structure and high-security fittings.
These secure bi-fold doors give you the strength of aluminium along with state-of-the-art locking systems. Both the doors and the locks are rigorously tested for durability and strength. Additionally, these doors come with resilient hardware that ensures smooth operations and tamper-free installation.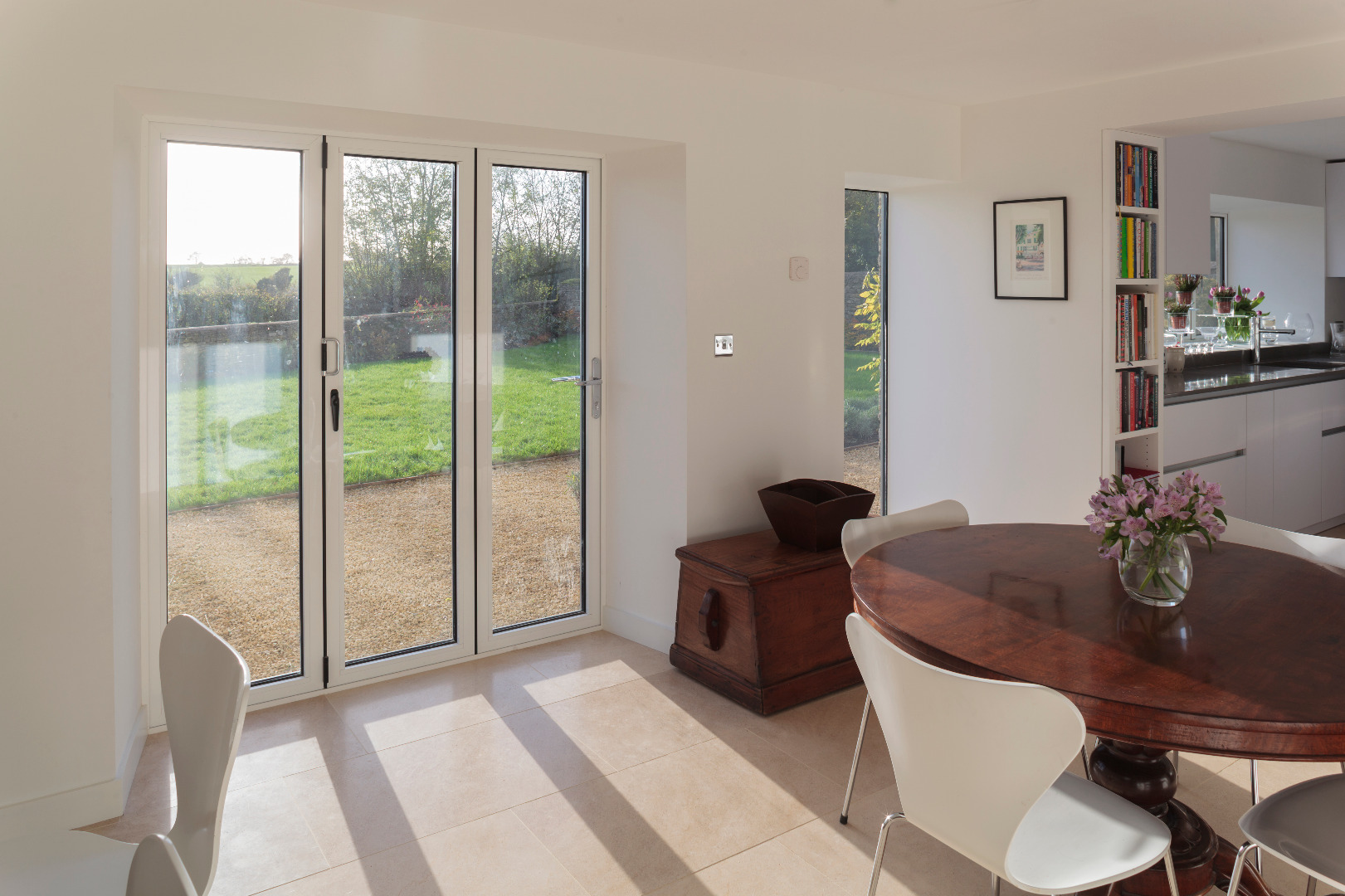 Tailored Aluminium Folding Doors
All properties and homeowners are different, and often have different needs in terms of looks as well as performance. This is why we at Commercial and Domestic Aluminium Ltd offer bespoke bi-fold doors that are manufactured to your requirements.
These slimline bi-fold doors can be made in any size with the number of panels you want. You can opt for 2 panels for an interior door or up to 7 panels for a wide opening. You can also decide which direction they open, whether they open inwards or outwards, leaf configuration, and how many static and movable panels you want. We even offer low threshold options for a mobility-friendly opening.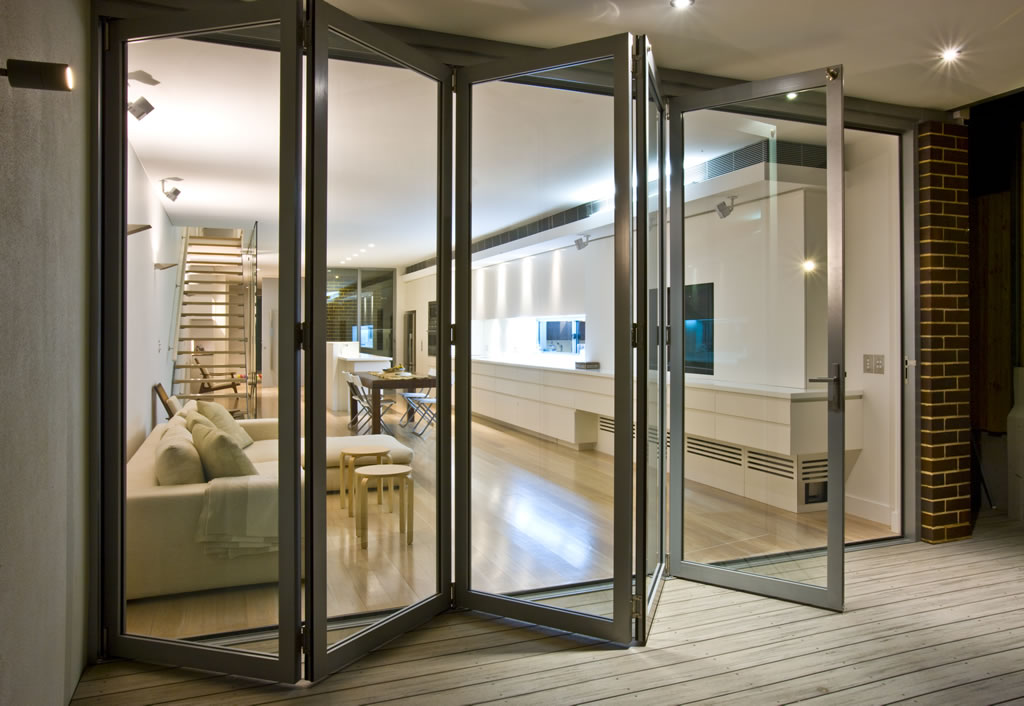 Double Glazed Bi-Fold Doors for Insulation
With our double glazed aluminium bi-fold doors in Eastleigh, you get better insulation for your rooms. These doors keep out the cold. They also protect you from cold draughts and damp. This gives you a property that doesn't face damp-related issues and requires less heating in order to stay comfortable. Since your energy requirements go down, you lower your heating bills as well as your carbon footprint.
Reliable Bi-Fold Doors
As one of the leading providers of aluminium bi-fold doors in Eastleigh, we ensure that we give homeowners and businesses premium-quality products. We also give you the benefit of over twenty-five years of experience in the industry.
For us, customer satisfaction is very important. This is why we dedicate ourselves to supplying high-quality customised aluminium bi-fold doors that we fit efficiently and professionally. Our installation is designed to be extremely non-intrusive and quick, so you can enjoy your bi-folding doors with minimal disruption.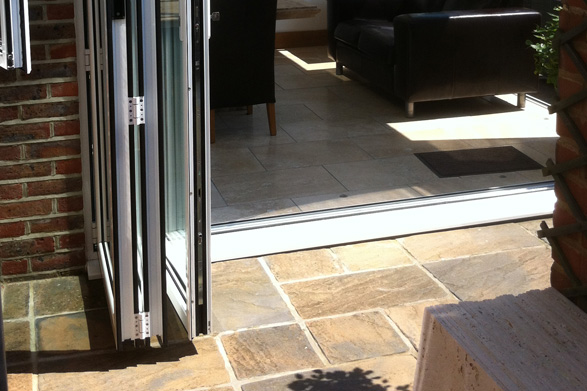 Aluminium Bi-Fold Door Prices, Eastleigh
You can get quick aluminium bi-fold door quotes in Eastleigh with our bi-fold door cost calculator. Use this tool to get bespoke bi-fold door prices by simply entering your specifications into it. The bi-fold door cost calculator will use these to give you your quotes in minutes.
You can also contact us online with your questions or call us on 02380 224900 to speak to someone from our team. We will be happy to give you the advice and answers that you're looking for as well as your bi-fold door cost.
Our aluminium concertina doors will match perfectly with our roof lanterns in Eastleigh – Flood your property with natural light and slim frames today.