Aluminium French Doors Ringwood
CDA manufacture, supply and install a range of quality aluminium French doors for homeowners in Ringwood and the surrounding areas.
Aluminium French doors offer a modern twist on a sleek, classic design. Providing the stylish aesthetics that homeowners are looking for, they'll also offer staggering performance. Made to measure to your specific requirements, you'll be able to create the perfect double glazed door for your home.
If you're looking to make a statement of style with your Ringwood home, our aluminium French doors could be the perfect choice.
Why Choose a CDA Aluminium French Door for Your Ringwood home?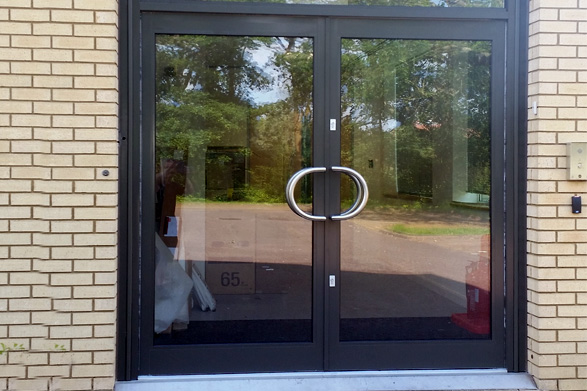 CDA are specialists when it comes to aluminium windows and doors. In addition to our wealth of experience, we are also partnered with some of the industry leading suppliers. This includes Smart Aluminium and Comar Architectural Aluminium Systems, ensuring the very best quality.
When you choose CDA for your aluminium French door, you're choosing flexibility and versatility. We have a range of options available to our homeowners to ensure you find the perfect fit for your home. With a broad selection of colours to choose from, you'll have no problem finding the aesthetic style that matches your home.
Whether you prefer a RAL colour that is vivid, or something more subtle, you'll be spoilt for choice for your Ringwood home.
If you're looking to flood your home with natural light, aluminium French doors are the perfect choice. Featuring their signature double door design, you'll allow twice the levels of natural light into your property. More natural light in the home can make your space seem even larger than it really is! It will also help to highlight the aesthetic style inside your living space. Bring out the most of your interior.
You can also make your home more accessible with our range of aluminium French doors. Offering low threshold options, you can remove any potential barriers or trip hazards from your Ringwood home.
View Our Aluminium French Doors Brochure
Classic Style
Aluminium French doors are a modern reimagining of a truly classic design. Having been popular with homeowners for hundreds of years, these double glazed doors' style stands the test of time. However, being made of modern aluminium, we can take this style even further. An incredibly durable material, aluminium doors can place the focus away from visible framing and onto the sleek glass portion.
Aluminium French Doors Colours & Finishes
If you're looking for a versatile aluminium French door for your Ringwood home, our selection is the perfect choice. We offer a range of colours and finishes that will allow you to match your door to your unique style.
Choose from our wide selection of RAL colours to find the best fit for your home. With dual colours also available, you'll have no problem creating the perfect look for your property. Look through our colour guide to start getting inspiration for your aluminium French door today!
Versatile Aluminium French Doors Ringwood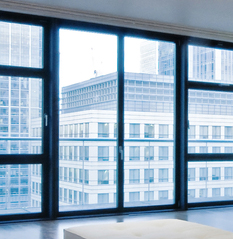 Our range of aluminium French doors are incredibly versatile in application and performance. You'll be able to open up your Ringwood home, bringing the outside in with these aluminium doors. With slim, stylish framing, they'll blend in perfectly with your home for a seamless style.
You can also decide whether our aluminium doors open simultaneously, inwards or outwards. A choice of hardware options will also finish the look, matching with any colour choice.
These double glazed doors are also perfect for both the interior or exterior of your Ringwood home. They can be used to improve access to and from your garden or as a divider between larger rooms. Whichever use you have in mind, our aluminium French doors will provide excellent performance.
Low Maintenance
Traditionally, French doors were made out of wooden materials. While stylish, this was a nightmare in terms of upkeep. Our modern, aluminium French doors will eliminate any concerns with maintenance. Instead, you'll have a long lasting and durable aluminium door that requires little effort. A simple wipe of the cloth is all it takes to keep them looking their best. It really is that simple!
High Security
Being inherently strong, your Ringwood home will be safe with our aluminium doors. Meeting all current Building Regulation standards, you'll have a secure door solution. We also offer high security locking systems and additional security upgrades for our aluminium French doors.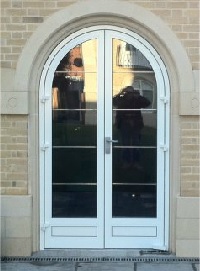 Energy Efficient
If you're looking for a cosier and warmer home, our aluminium doors could be the perfect choice. With high WER ratings and a thermally broken profile, you'll enjoy thermal retention from these double glazed doors. In winter, this could be a lifesaver. Helping t keep temperatures constant, you could enjoy a warmer and more cost effective home with these aluminium doors.
Aluminium French Door Prices Ringwood
If you are considering replacing your outdated French doors or have a new build project, our Aluminium French doors will be a perfect choice for your requirements.
Contact our team today on 02380 224900. A member of our friendly team will be happy to assist you with any queries on your next door installation and offer a price bespoke to your specifications