Bi-Fold Doors, Fareham
Here at Commercial and Domestic Aluminium, we install sleek and stylish aluminium bi-folding doors in Fareham and the surrounding Hampshire towns. The robust aluminium design allows for slim sightlines, smooth operation as well as improving your thermal efficiency and the security of your property.
These double glazed folding doors are bound to complement the existing aesthetics of your Fareham home. We carefully source our products from leading manufacturers in the double glazing industry. Industry-leading Smart and Comar manufacture our bi-fold doors.
Invest in a product that will significantly brighten up your living space and your life. If you would like more information about our double glazed bi-folding doors, get in touch with us today!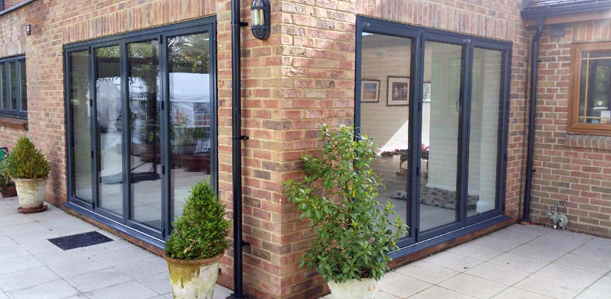 Stunning Bi-Fold Doors in Fareham from CDA
These sliding folding doors will seamlessly connect your Fareham home to your garden. You can even get internal folding doors which will separate larger rooms.
As these installations are made from a premium grade aluminium, there will be slim sightlines. This is perfect as the panels will neatly fold away to the side to allow access to almost the whole expanse of the door. Also, benefit from the fact that these doors do not need a wide swing arc like a French door.
Better yet, slim frames allow for maximum natural light exposure. Brighten up your property with our bi-fold doors! These fit perfectly into any external wall – these are ideal for both residential and commercial customers alike.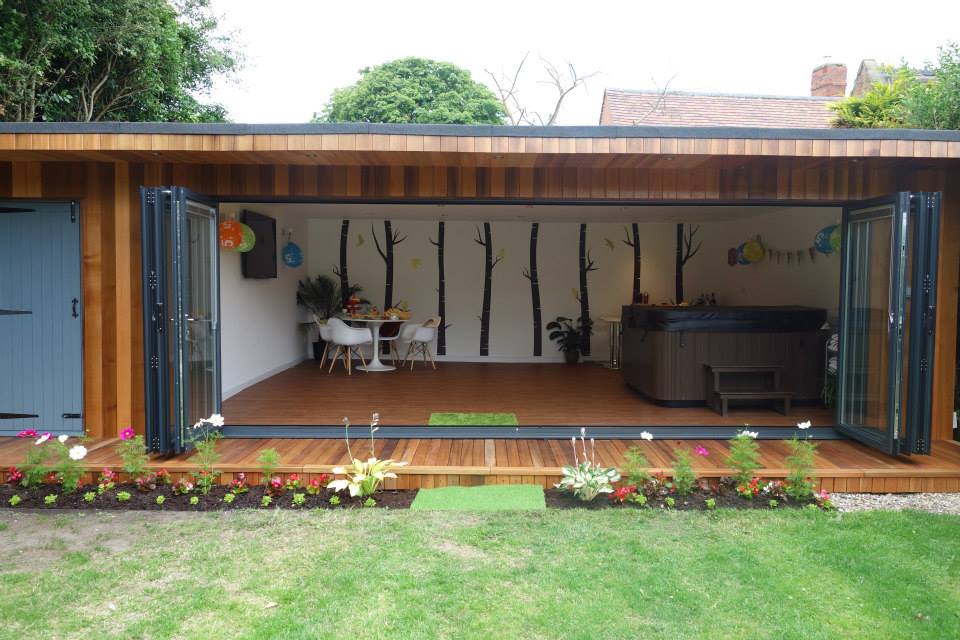 Modern Aluminium Folding Doors
Although these kind of doors are unique for their modern design, they will complement any home of any age. It doesn't matter whether your home is new, old, traditional or modern – aluminium bi-fold doors will be a great way to invite the outside in.
If your home has a conservatory, orangery or any other type of home extension why not consider an external folding door? These are a great way to feel more connected with nature allowing in natural light and stunning views.
Aluminium is an excellent material that we offer a whole spectrum of colours for. These RAL colours and finishes are designed to last and will not fade, peel or discolour when exposed to the elements. You can choose a bold stand out colour which will be the talking point for your visitors or opt for a subtle shade. The final decision is down to you.
Aluminium Bi-Folds Colour Options
---
Robust Bi-Fold Doors
Home security is a common worry among homeowners. We as a company want to ensure that you and your family feel safe and secure in your home. For commercial customers, we want to make sure that your business and possessions are protected. Our loyal customer base in Fareham and the surrounding areas are our priority.
Aluminium is an incredibly robust material. Although we use very little to provide our gorgeous slim sightlines, this is enough to be able to withstand sudden impacts and break-in attempts. To further enhance the security, our bi-fold doors are fitted with multi-point locking mechanisms which firmly secure your door in place when they closed and locked.
Not to mention that our hardware options are tamper resistant meaning you can sleep easy at night knowing you and your family are safe and sound. Get in touch today for more details.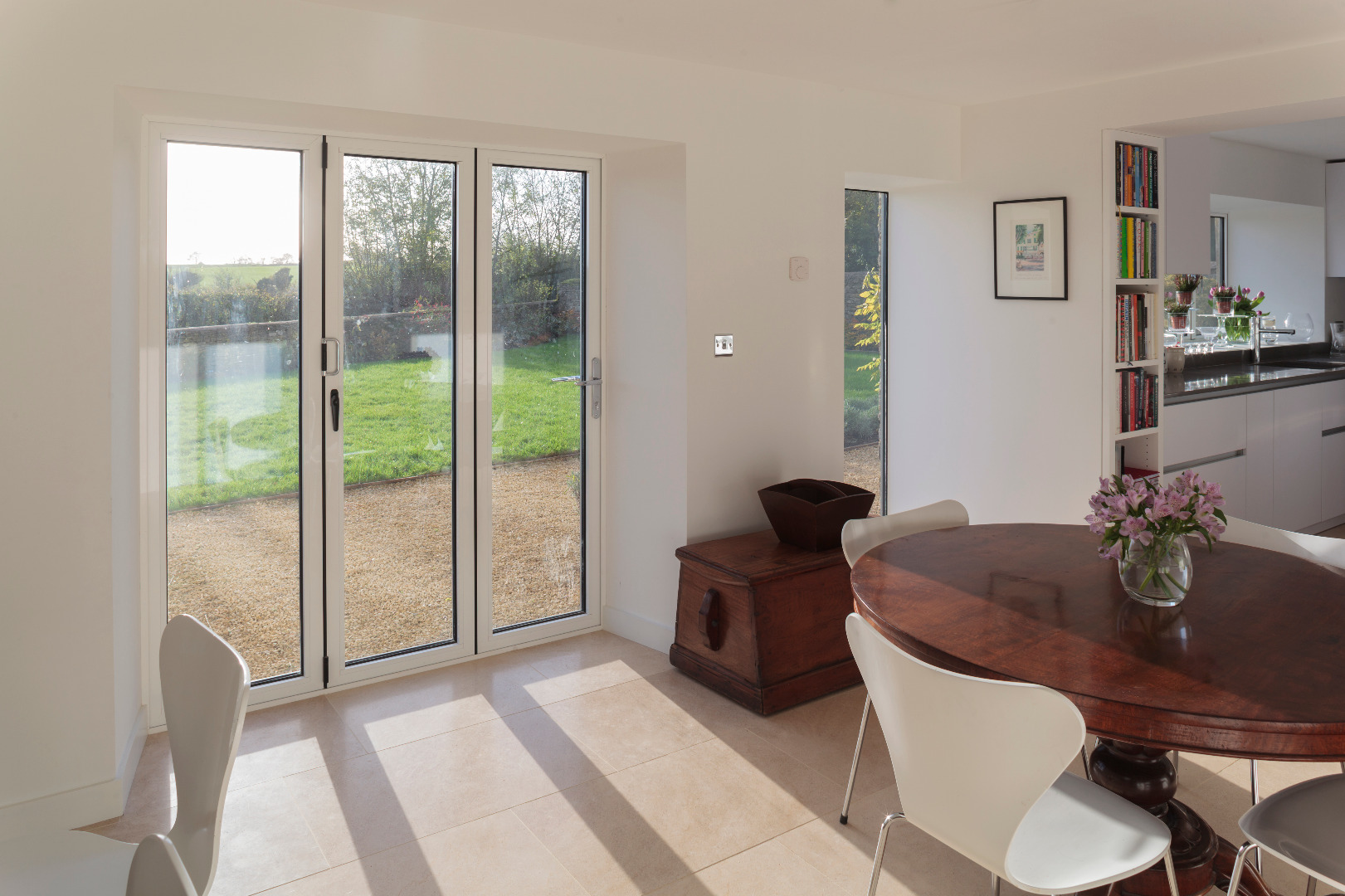 Bespoke Alu Bi-Fold Doors
We understand that every home and commercial improvement project will have different needs. We can tailor our bi-fold doors to suit your specific needs.
We will give you the option of opening configurations as well as how many panels you would like. We offer 2 – 7 panels usually. However, get in touch with us to discuss a more bespoke idea. With this, you can decide which way they open if they open inwards or outwards as well as static and movable panels.
For those in need of easier accessibility, our stunning bi-fold doors can come with a low threshold making it easier for pushchairs and wheelchair users to move freely in and out.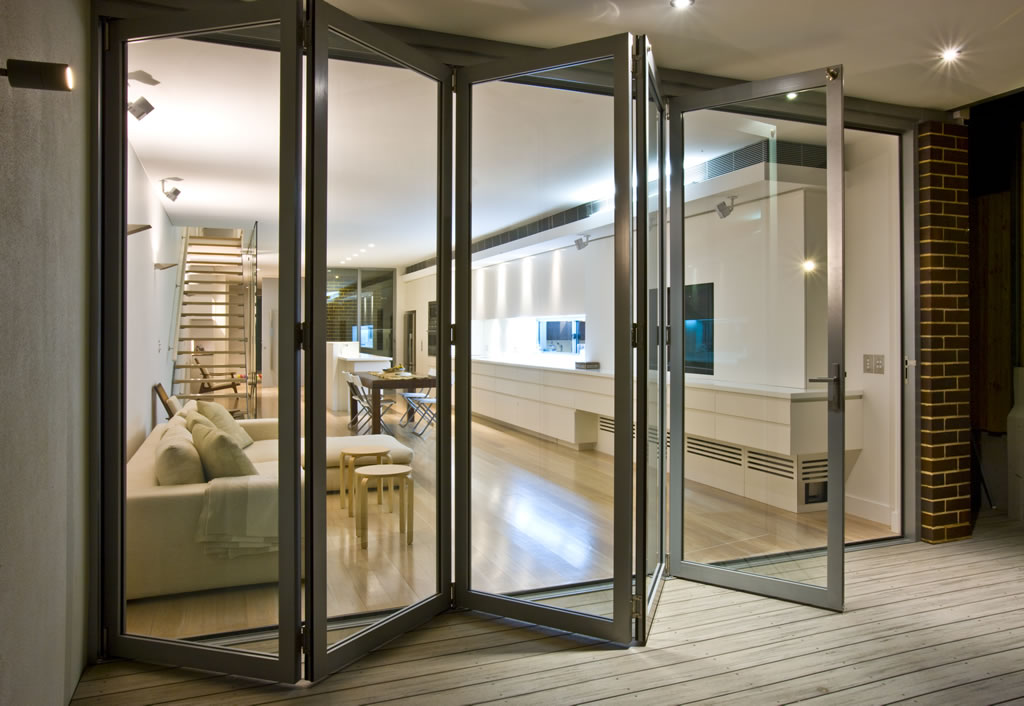 Thermally Efficient Bi-Fold Doors
Our bi-fold doors boast excellent thermal performance. Stay snug, cosy and warm in your Fareham home without having to keep your heating on high.
With a thermally broken frame, our bi-fold doors trap heat and stop it from escaping. By doing this, it creates a thermal barrier which allows you to feel warmer for longer in your home.
Better yet, this will also provide you with weatherproofing qualities as the rain and wind will not be able to penetrate our double glazed bi-fold doors.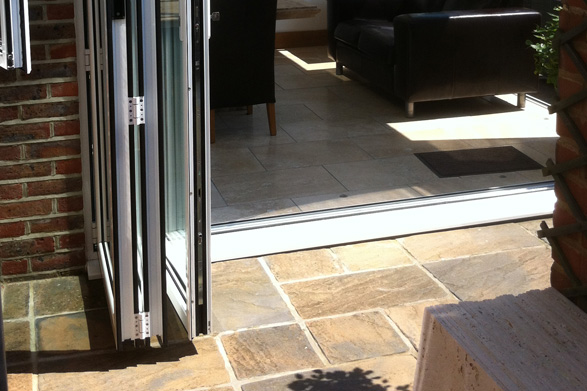 Aluminium Bi-Fold Door Prices, Fareham
If you're looking for bi-fold doors prices, please use our bi-fold door cost calculator. Here you will receive aluminium bi-fold doors quotes tailored to you.
Alternatively, you can get in contact with us by filling out our online contact form. We will get back to you with all the information that you require.
We look forward to hearing from you soon! Whilst you wait, why not check out our roof lanterns in Fareham to match your new bi-fold doors?