Aluminium Bi-Fold Doors, Andover
At Commercial and Domestic Aluminium, we provide stylish aluminium bi-fold doors in Andover for all properties. With these slimline bi-folding doors, you can improve the heat performance of your property as well as the style.
With their easy-to-use folding mechanism, these doors will also help you manage your space effectively.
We bring you modern bi-fold doors from market-leading names like SMART and Comar. As a result, you can be sure you will get durable fittings that will give you flawless performance over the years. You can even tailor these doors to match your property's requirements and your taste.
Learn more about our aluminium bi-fold doors in Andover by contacting us or request your quote!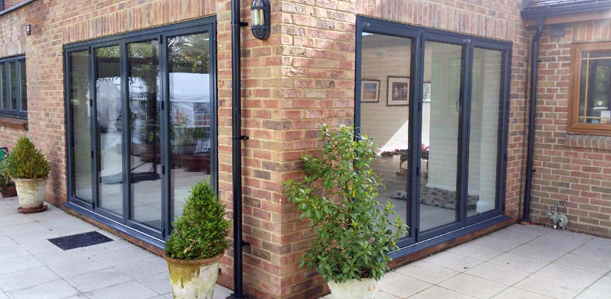 Slimline Bi-Fold Doors in Andover from CDA Ltd
Aluminium bi-fold doors are a sleek and stylish way of managing spaces. They can help you break up a large space into two more reasonably-sized ones.
You can also use them to open up your indoor space into your outdoors. Additionally, with their folding nature, you can make the aperture as wide as you want. You can use them to replace an entire wall, and open it up without wasting space.
With our slimline aluminium bi-fold door profile, you get a door that offers a larger glazed area.
This means your room gets more natural light with fewer obstructions in your view. As a result, you can get bi-folding doors installed anywhere, including your living room, conservatory, car showroom, or school, and they will add sophistication to your property.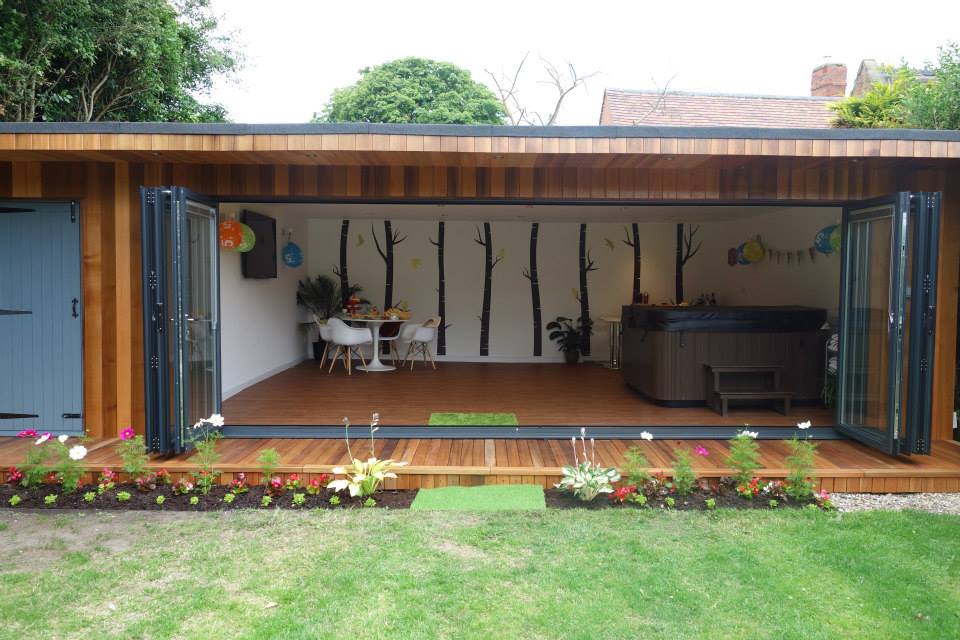 Minimalist Aluminium Bi-Fold Doors
For a clean and minimalist look, you cannot beat aluminium bi-fold doors. These doors not only give you enhanced functionality but they are also capable of transforming the appearance of your room instantly. You can benefit from not just their stunning style but also the bright illumination they offer.
In addition, you can customise the look of your bi-fold doors to suit your needs.
We offer you doors that are made exactly as per the size, configuration, and panel requirements you have. We also give you a choice of a selection of RAL colours and finishes so you can match your doors to your Andover property.
Aluminium Bi-Fold Door Colour Guide
---
Durable Aluminium Bi-Fold Doors
Aluminium is a very strong metal and it lends its sturdiness to these bi-folding doors. Our double glazed bi-fold doors are so resilient that they last you years without any breakdown in performance or looks. They will also continue to operate smoothly with minimal care.
Additionally, the durable bi-fold doors also give you amazing security with their strength. Combined with the locking systems we provide with our aluminium bi-fold door installation in Andover, you get a property that is safe from even the most determined intruders.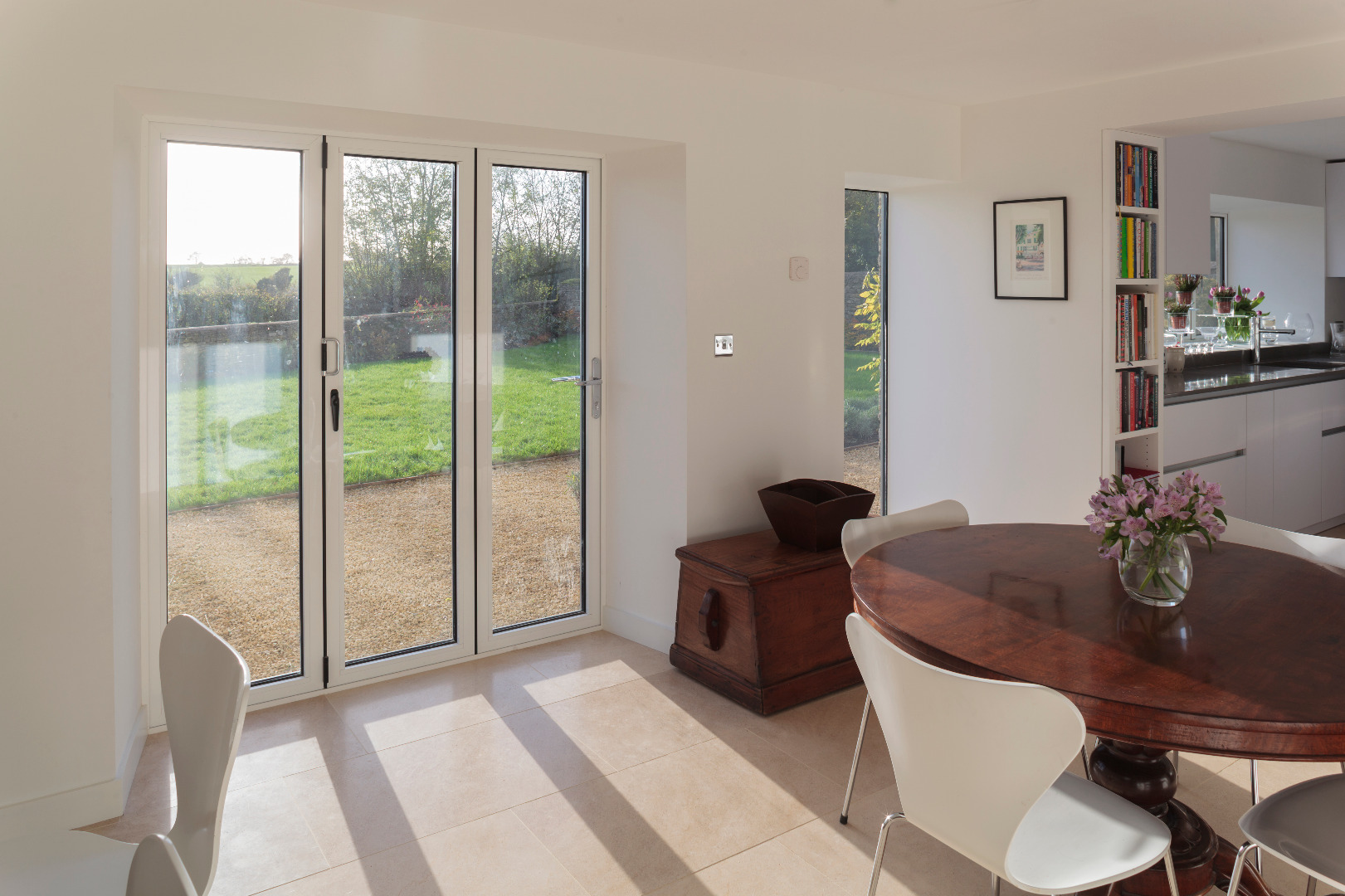 Customised Aluminium Bi-Fold Doors in Andover
At Commercial and Domestic Aluminium Ltd, we understand that all our customers have different needs. This is the reason why we offer bi-fold doors that are tailored to your specific needs. This way, you can get doors that match your décor and aesthetics perfectly.
We offer slimline bi-folding doors in any size you want. You can also decide the number of panels, ranging from 2 for a regular-sized door to 7 for a wider opening. These doors can open in the direction you specify, as well as inwards or outwards depending on your needs. We give you bi-fold doors that can have the colour and finish you desire as well as static and movable panels as per your requirements.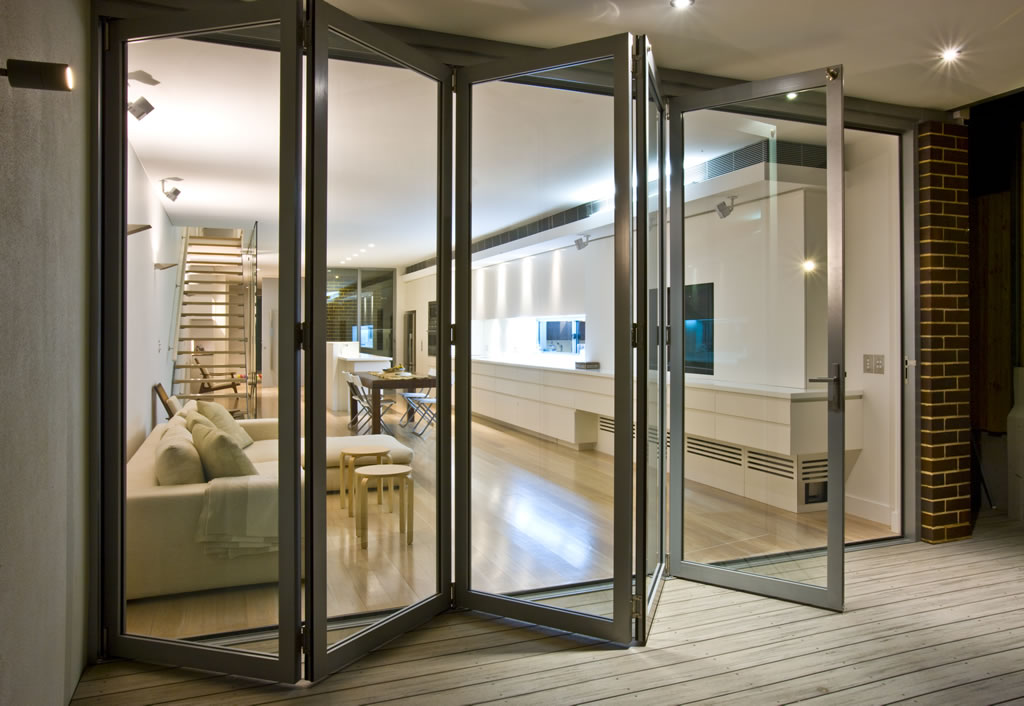 Thermally Efficient Double Glazed Bi-folding Doors
When heat performance is an issue, our double glazed bi-fold doors will rise to the occasion. These doors provide excellent insulation to keep your rooms warm with less energy usage. We also give you aluminium bi-folding doors fitted for better weather protection, giving you a property that is as dry as it is warm.
Trustworthy Aluminium Bi-Fold Door Installation
With our bi-fold door installation, you can be sure of a reliable performance. We provide you with products that are of the finest quality, installed expertly and efficiently. In fact, our installation is so quick that you won't have to suffer any significant disruption to your life.
The reason we are able to give you such trustworthy service is that we have over twenty-five years of experience in the industry. Combined with our dedication to quality customer service, this gives you a double glazed aluminium bi-fold door installation you can trust.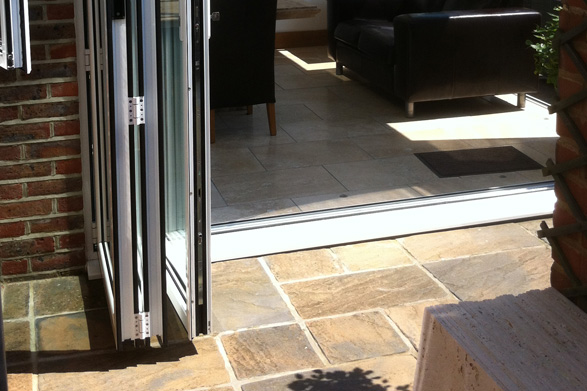 Aluminium Bi-Fold Door Prices, Andover
For instant aluminium bi-fold door prices in Andover, try our online bi-fold door cost calculator. This is a tool that gives you bespoke quotes based on your specifications. Simply enter your requirements and it will give you your bi-fold door quotes in minutes.
You can also contact us if you need any questions answered or want to discuss your bi-fold door costs. Send us an online message or call us on 02380 224900 to speak to someone from our team. We will give you the answers to your queries as well as your bi-fold door price.
To further improve your Andover property, be sure to check out our flat roof lanterns. They will compliment your new doors and create more light, while maintaining privacy.