Aluminium Bi-Folding Doors
Sophisticated, modern and versatile, our aluminium bi-folding doors in Southampton, Hampshire, Surrey and surrounding areas are suitable for homeowners and commercial properties. Our folding doors are a great way to improve the style and efficiency of your home. Aluminium bifold doors have the power to transform your living space, opening up a multitude of possibilities for your property.
Our bi-fold doors in Southampton will gift your home with panoramic views of your surroundings. Combining smooth operations and a beautiful design, our bi-folding doors are highly sought after. If you require a long lasting, thermally efficient and secure door, make sure it's aluminium.

Bi-Fold Doors – The Modern Alternative
We specialise in creating made to measure aluminium products for both commercial and domestic purposes in our on-site manufacturing facility. Bi-folding doors can be made from various materials, but at Commercial and Domestic Aluminium Ltd, we believe aluminium is best.
Aluminium doors provide the perfect combination of strength and weight, allowing you to benefit from a slim yet strong profile. The slimmer frames will enable us to fit a wider pane of glass into space, meaning you will gain more light and increased views to the outdoors.
Lightweight aluminium offers great flexibility regarding technology and aesthetics. Therefore these bi-fold doors exceed both wood and uPVC in terms of performance, making them far more reliable.
---
Bi-Fold Door Frame Colours
Our aluminium bi-fold doors can be customised to your taste. They come in a wide range of RAL colours which also include textured colours. These aluminium powdered coated colours are extremely durable and will never rust or fade. Leaving you with an entrance that stays fresh and last long for years. Take a look through our colour guide and find the right combination for your folding sliding doors.
Aluminium Bi-Fold Door Colour Guide
---
Enhanced Light & Space
Our aluminium bi-fold doors offer enhanced light and space. This makes them perfect for properties with smaller living areas or for those who entertain often. A superb choice, they will provide a contemporary and open plan feel.
A key feature is their effortless ability to open up space between house and garden and the width of the aperture can be tailored to your preference. Their unique tracking systems allow you to extend tiled flooring so you can enhance your patio area, creating a large living space.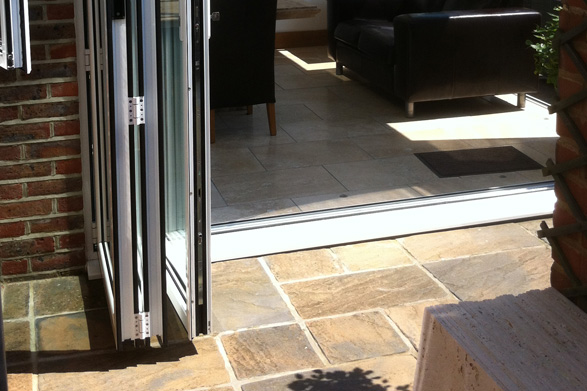 Versatile Aluminium Bi-Fold Doors
Bi-fold doors fold back to just a few inches of opening, providing you with a considerable amount of outside space. These doors allow you to utilise space effectively within your home.
Offering durability and convenience, these doors are endlessly versatile.

Multiple Configurations
Aluminium bi-folding doors are completely retractable with multiple opening configurations to choose from. Do you want your doors to open in or out? Do you want them to fold to the left or the right? Whichever option you choose, your bi-folding door will provide an endless amount of space and light.
At Commercial & Domestic Aluminium Ltd, we provide bi-folding doors bespoke to your requirements. So whether you opt for 2 leaves or 6, we will give you the best option for your property.
Easy To Operate Folding Doors
Our bi-folds operate on free-glide systems making them easy to operate. Maintenance free roller bearings ensure that your opening provides a smooth transition every time.
With a smooth sliding action and bespoke threshold options, you can create a home that is easily accessible for all of your visitors.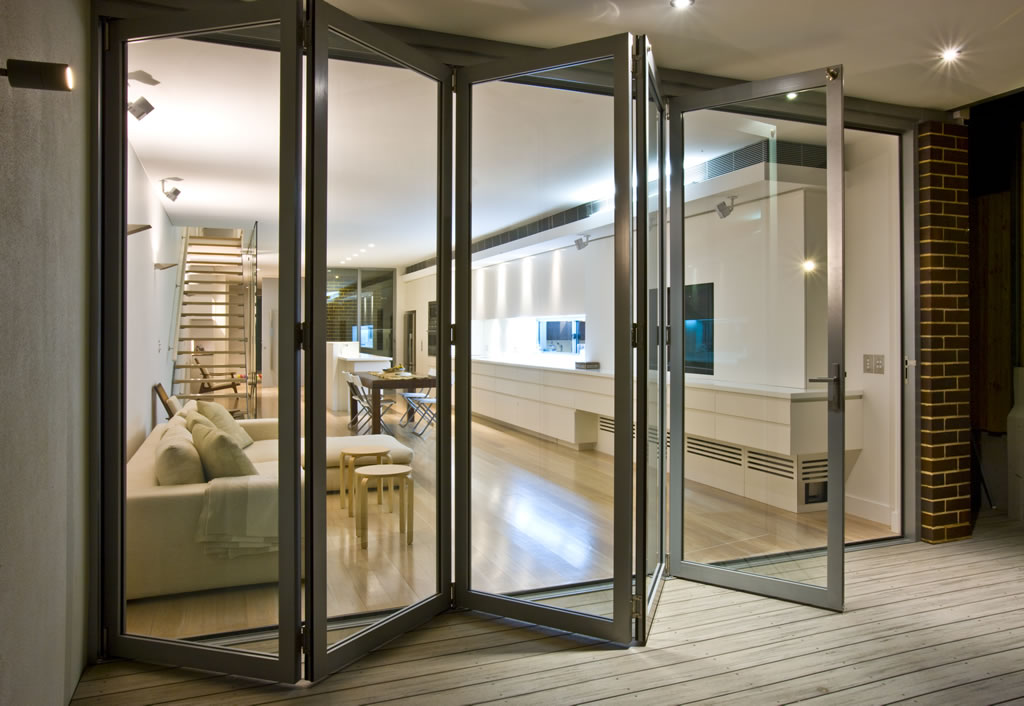 Why Choose Aluminium Bi-Folding Doors?
Aluminium bi-fold doors are one of the most secure, aesthetically pleasing, thermally efficient doors that your money can purchase. Providing your home with enhanced views of the outside world with their large glass panes, our bi-folds open your home to your garden. Complementing modern and traditional properties with their stunning slim sightlines. Our bi-folding doors are highly sought after home improvement products, combining effortless operations with beautiful designs. We also offer competitive bi-fold door prices in Southampton and throughout the UK.
Energy Efficient Bi-Folds
With their large panes of glass, aluminium bi-folding doors are known to be one of the most energy efficient doors when installed correctly. We supply and fit our doors with the highest quality materials around the perimeter of the glass, reducing the level of heat loss through your new doors. Aluminium is an excellent material for providing a thermally efficient home, succeeding in preventing unwanted cold air in your home. We can confidently say that our aluminium bi-folding doors waste as little energy as possible, helping you save money on your heating bills.
Stunning Aesthetics
Aluminium bi-fold doors are becoming increasingly popular among modern homeowners & aluminium architects. With their hugely appealing exterior, our aluminium bi-folds are guaranteed to highlight the stunning aesthetics of your home. Bi-fold doors provide a minimalist, slim design that makes them extremely desirable. So, whether you have a modern or traditional property, these doors will enhance the character of your home.
Enhanced Security
The entrances to your home should provide long lasting security, keeping your home and loved ones safe. Aluminium bi-fold doors are extremely secure. The profiles are built to be highly resistant to corrosion, which makes them extremely durable. Bi-fold doors are built to last, making them resistant to high impact and temperature changes.
Aluminium Bi-Fold Doors to Suit Any Home Style
With over twenty-five years of experience in the aluminium industry, we have perfected our aluminium bi-folding door designs to adhere to modern standards. With a range of styles to suit both modern or traditional properties, our aluminium bi-folds can suit any home. Beautifully designed, totally secure and requiring minimal maintenance to retain their effortless functionality, bi-fold doors are the perfect rendition for your home.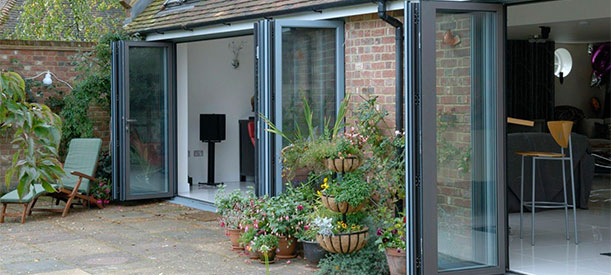 Aluminium Bi-Fold Door Prices
If you are looking for bi-fold door prices in Southampton, Eastleigh, Hampshire, Surrey and throughout the UK, use our free online quote engine. You will be able to enter your size and configurations, along with your choice of colours, and we will offer you an estimated price.
So if you make just one home improvement this year, discover aluminium bi-fold doors. Beautifully designed and secure, they are a worthwhile investment for your home.
Alternatively, why not contact us to find out more information on our bi-folds and aluminium prices on 02380 224900. We can talk you through our options, and our team of experts can advise you on the correct aluminium door for your project. Our in house team are highly experienced in aluminium doors and double glazing and will be more than happy to answer any questions you may have.