Commercial & Domestic Aluminium are specialists in supplying high quality aluminium windows and doors. In total, we have over 25 years of providing exceptional aluminium products and we have worked with brands such as Honda, Subway and Nissan so you know you are buying from a trusted company with an excellent reputation. We work with a range of great partners including Comar Architectural Aluminium Systems, Smart Architectural Aluminium and Reynaers Aluminium to provide you with great products.
Why You Should Choose Aluminium Over uPVC
Longer Lasting – aluminium and uPVC are both great options when it comes to buying a new Bi-Folding door but aluminium lasts far longer – our aluminium finishes are far more weather resistant and are guaranteed for 25 years. Aluminium is also more environmentally friendly.
More Colour Choice – there is a choice of over 200 different colours and finishes to meet the needs of the most discerning customer. Why not have different colours to meet the colour scheme of the outside and interior décor? The choice is yours. With uPVC, there is a limited range of colours and finishes and you cannot have different colours inside and outside your door. With an aluminium bi-folding door, the use of standard colours allows the colour to be matched with other products at a future date.
Suitable For Different Environments – the use of powder coated colours means that they will not fade and the available coatings are available to suit all types of environments.
Cost Effective- Aluminium is more robust than uPVC and less susceptible to damage or the need to replace components. These doors can also help to reduce your energy bills, as the thermal barriers make them energy efficient.
Why consumers should choose aluminium Bi-Folding doors.
Aluminium Bi-Fold doors are a good long term investment for your Hampshire home as they are very durable along with being resistant to impact and temperature changes which can cause warping in a standard uPVC door. They are easy to customise with a choice of up to 8 doors and a combination of widths. This makes it possible for large openings to be created, providing flexible internal spaces to meet your living and entertainment needs.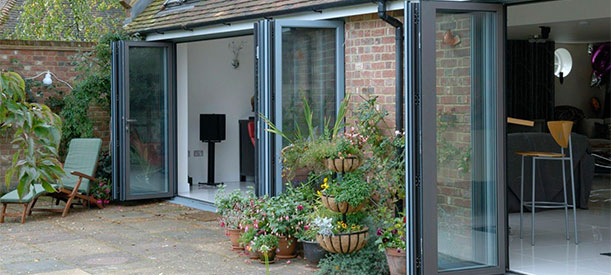 Aluminium Bi-Folding doors are also extremely secure with a choice of locking systems. If you have impaired mobility they are the perfect choice for patio doors for you due to the low profile sections allowing greater clearance for wheelchairs through existing openings without the need for expensive adaptations. For even easier access, the bottom rail can be sunk into the flooring. This will also avoid trip hazards.
Aluminium Bi-Folding Doors In Hampshire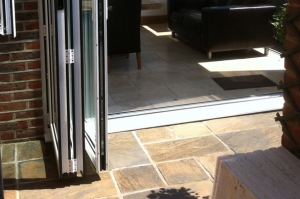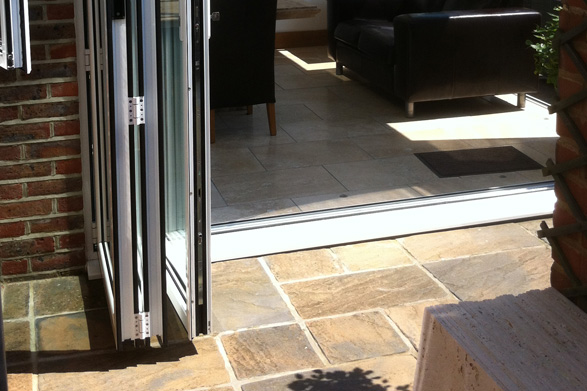 We strongly believe aluminium Bi-Folding doors are the right choice for your property in Hampshire. Aluminium doors can be used for both internal and external purposes but they are a particularly good fit as patio doors due to their ease of use for wheelchair users, making access to your patio easier than ever.
We offer aluminium doors in a variety of different RAL colours. RAL colours are the standard colours for paint and you can view a full range here. We allow you to customise the look of your aluminium doors to ensure you get the right look for your home in Hampshire.
Here at Commercial & Domestic Aluminium Ltd, we understand that every home in Hampshire is different, which is why we provide aluminium doors with a variety of different configurations, working together with you to create bespoke doors, working the way you want them to. Whether you are looking for doors that open into your property or ones that open out onto your patio, we can take care of all your needs.
Our aluminium Bi-Folding doors are also environmentally friendly and recyclable. We offer doors, which have a polyamide thermal barrier, which provides high thermal efficiency. If you needed another reason to choose our aluminium doors then our doors are highly secure with aluminium being extremely difficult to break, keeping your Hampshire home safe.
Make the right choice and move towards a better future with our aluminium bi-folding doors.
Obtain A Quote!
Now you have seen just what a great option aluminium Bi-Folding doors are for your home why not get a quote? We provide aluminium Bi-Folding doors at great prices, making them an affordable option for your Hampshire home. You can obtain a quote by messaging us on our website or by giving us a call on 02380334901 and we will get back to you!